We offer a wealth of tips and strategies across a range of topics—from application advice on Harvard or INSEAD to acing the GMAT, writing essays, navigating MBA interviews and more.
Feb. 20th, 2013
Whether you are convinced that you want to do an MBA, or are just entertaining the idea, we recommend that you spend a long time on self-reflection. Most business schools want to know more about you than just your CV. They want to get a sense of what makes you tick. You will have to answer some profound questions in the application essays and at the interviews. Why are you unique? What are your ambitions? Chicago Booth asks candidates to "Tell us something that has fundamentally transformed the way you think." Answering such questions in a way that will attract the admission officer's eye requires considerable self-awareness and maturity.
Feb. 6th, 2013
Fortuna Admissions has been asked by The Economist to write a four-part series explaining how to improve your chance of getting into a top business school. Our experts from Wharton, INSEAD, Harvard Business School, London Business School, Chicago Booth,  IE Business School, Kellogg and UC Berkeley Haas are answering readers' questions over the course of the coming weeks. Part one: […]
Jan. 23rd, 2013
(Fortuna featured in Forbes) For thousands of MBA hopefuls, January is the month when they hit the 'submit' button on their applications to the world's top business schools. Having crafted their essays, nailed the GMAT, tightened their resume, and cajoled their supervisors for a letter of recommendation, everything is set to meet the round 2 […]
Jan. 9th, 2013
In this interview, Ankur talks about Wharton's new Team Based Discussion as part of the school's MBA Admissions process, and offers admissions advice for applicants. Ankur, you yourself are a Wharton MBA grad. Where were you when you received the call to say you had been admitted to Wharton? I missed my call. I was […]
Dec. 6th, 2012
Did your chances of securing a place at one of the world's top business schools just improve? Well yes, … and no. Several of the top US full-time MBA programmes have reported a significant drop in applicant numbers in the last 12 months, including the Columbia Business School with a 19% drop, and NYU Stern […]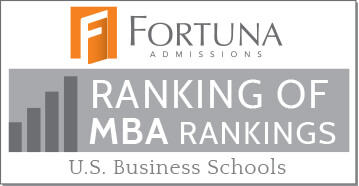 Nov. 20th, 2012
Fortuna Admissions has compiled the results of the big five MBA rankings of the last 12 months to produce the Fortuna Ranking of MBA Rankings 2012 – US Business Schools. How do the top business schools in the US perform when you combine these results? Methodology Only the US business schools are ranked by all […]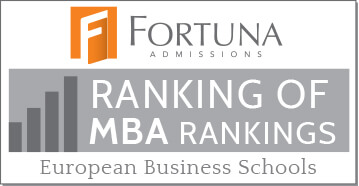 Nov. 20th, 2012
Fortuna Admissions has compiled the results of the major media MBA rankings of the last 12 months to produce the Fortuna Ranking of MBA Rankings 2012. Methodology Very few of the European business schools are ranked by four of the major media rankings. BusinessWeek assesses only a limited number of non-U.S. business schools, and […]
Nov. 20th, 2012
Beyond the headlines of the latest Bloomberg Businessweek MBA ranking, there is a tremendous amount of data for potential business school applicants to analyze. From class size, cost, and curriculum to community spirit and careers, the survey responses from more than 10,000 graduates provide invaluable perspectives on the search for the right MBA fit. The Rankings History, […]
Oct. 1st, 2012
With 17 applications for each place in the MBA program at the Stanford Graduate School of Business, and close to 10,000 applicants hoping to join the incoming class at the Harvard Business School, it is no secret that leading MBA programs have a highly competitive admissions process. Schools like Chicago Booth, INSEAD, UC Berkeley-Haas and the Indian […]
Sep. 24th, 2012
Interviewing is a lot like dancing. You should probably dress up for it, learn the steps beforehand, and know who is "leading" during the dance itself. Here's our tip: YOU are NOT the leader.
MOST POPULAR POSTS