Choosing Between MBA Admissions Offers
March 01, 2018 | by Heidi Hillis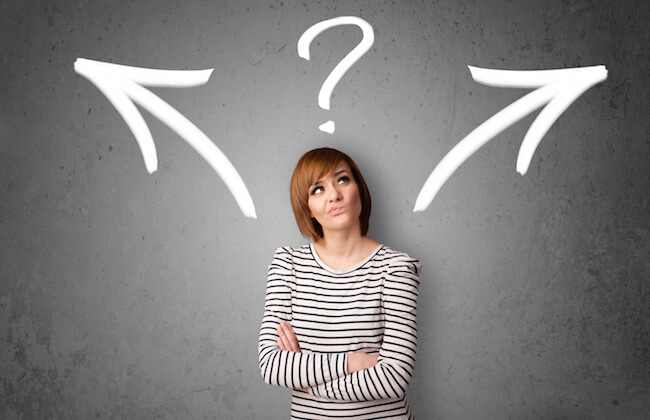 Are you in the rare and enviable position of receiving offers from two of your dream schools? Maybe you've been offered a sizable scholarship, but not from your top choice program. Deciding whether to accept an offer from a safety school or apply again in the next cycle is another flavor of nerve-wracking.
Given that the MBA is designed to advance your highest professional ambitions while changing your life in the process, none of these scenarios should be taken lightly. As admissions coaches and former business school admissions professionals, my Fortuna Admissions colleagues and I are practiced at supporting candidates facing an array of game-changing decisions. I asked my colleagues for their advice on three of common scenarios we see in the wake of Round 2 decisions.
Deciding between admissions offers: three common MBA decision scenarios
Scenario 1: Choosing between competing offers from two of your dream schools.
"This is the best kind of problem to have, of course, although the choice can feel agonizing," says Fortuna's Malvina Miller Complainville, former Harvard Business School Assistant Director of Career Services.
If you're considering offers from two (or more) dream programs, Malvina advises to sideline the rankings and get personal about the details.

Here are Malvina's five key considerations:
Assess your fit with each program in terms of its community and culture: Visit campus and sit in on a class to get a sense of the student community, faculty teaching style and classroom dynamics. It's the best way to really understand the identity and cultural nuances of each school. Most importantly, speak to students, professors and alumni about their experience. GSB and HBS may vie for first in the rankings, but their personalities and cultures are distinctly different.
Consider the financial implications: Is one school offering more scholarship or financial aid opportunities to lessen the economic burden?
Weigh brand recognition: How might a program's reputation and strengths, as well as the experiences and networks it provides, position you to realize your career ambitions? For international careers, be sure to assess the strength of the school's brand abroad.
Learn more about each school's career offerings: Get a nuanced perspective on each school's career services and speak to career clubs about opportunities and events. Which companies are recruiting on campus? Research employment statistics from the latest career report and discern the opportunities likely to be on offer for you post-graduation.
Evaluate the alumni network: How well-developed and active is the alumni community? Know that this is particularly important if you're pursuing a network job search abroad.
Scenario 2: Do you take a scholarship offer that's not from your first choice program?
"An MBA is a huge investment, so receiving a scholarship, even when it's not from your top-choice school, is obviously something to take seriously," says Fortuna's Catherine Tuttle, former Duke Fuqua Associate Program Director.
When this happens, Catherine recommends that you inform your top-choice school that you have money on the table elsewhere. While it won't guarantee a counter-offer, you never know unless you ask.
Catherine's advice on optimizing your chances:
Create a strategy for reaching out, and practice your approach to clearly conveying why you want to be at your first-choice school. Make it known you're open to a conversation.
Follow the program's protocol and supply all the necessary information to the right people.
Stay humble. This is a human process, and people are more inclined to advocate for individuals they feel are considerate of their needs. Your request is more likely to be denied if you come across as arrogant or demanding.
"And if your top choice school can't offer additional funds, at this point, allow program culture to enter your decision," adds Catherine. "Whether you go with the scholarship opportunity or not, you want to feel confident your chosen school is the right fit from a cultural, academic and career standpoint."
Scenario 3: Take an offer from your safety school – or reapply again next year?
"It matters what you consider a safety school," says Fortuna's Judith Silverman Hodara, former Wharton head of Admissions. "I had client who got into Booth, and his bosses told him he should hold out for GSB or HBS. Given his profile, I advised him to take Booth's offer. Why? In all honesty, he would never really know what had kept him out of HBS or GSB, and, as they say, a bird in hand in this case was well worth it."
"It's different, of course, if you suspect your application wasn't good enough or didn't give it your best effort," says Judith. "Maybe you can concede that an additional year of leadership experience or work could make a difference. Or you might sense you got into your safety school too easily, and that it's not as worthy because you didn't struggle for it."
While each situation is unique, Judith recommends reflecting on the following questions:
Will your second-choice program give you what you want and need in terms of community, network and career progressions?
Will you always suspect you should be somewhere else?
As opposed to the more quant-driven factors in admission, do you imagine what you wrote or communicated was found lacking?
Is the ROI of taking the offer you currently have better or worse than the ROI of a potentially unknown, better offer with no guarantee?
What are the pros and cons of going through another year of the MBA application process – another year with more experience and another year delaying your career track progression? (Note: Delaying isn't always strategic for schools that favor applicants earlier in their careers)
While re-applicants are certainly welcomed and encouraged, how can you credibly enhance your profile in the coming year? What will have changed since you applied last time?
Are you willing to re-examine your entire application?
"At the end of the day, I like to tell candidates to flip a coin on the answer – not to do what the coin says, but gut-check how you feel about the outcome," says Judith. "This little trick can tell you a lot about how to proceed."
Fortuna Admissions Expert Coach Heidi Hillis is a Stanford GSB graduate and served as a GSB alumni interviewer for several years. A version of this article was originally published in Prodigy Finance on February 16, 2018.