What MBA Admissions Really Want: From Stanford GSB, Booth, Tuck & More
October 30, 2017 | by Matt Symonds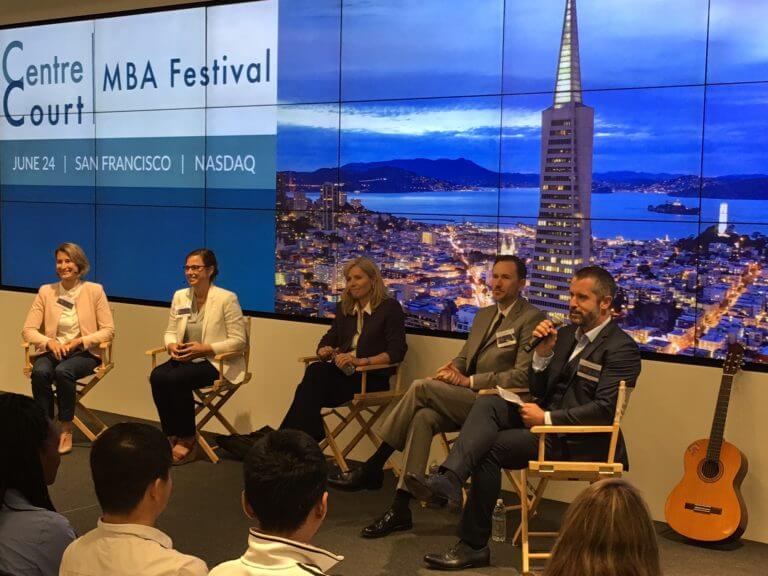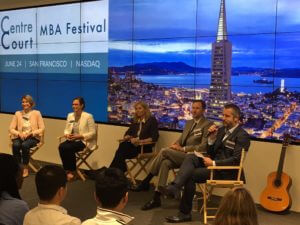 Admissions Directors from Chicago Booth, Stanford GSB, INSEAD and other top programs get candid about your spike factor, unicorns and top qualities they're looking for in MBA candidates.
"I don't want unicorns," says Kristen Moss, Stanford GSB Assistant Dean and Director of MBA Admissions. "Leadership doesn't come from a socio-economic status, it doesn't come from being a Harvard undergrad or an institution, it doesn't come from the fact you were in private equity… Your job is to show me how you are a leader and is defined precisely by the impact that you have had on your community. If you can tell me that then we're both going to be aligned because that's what I'll be looking for."
Moss's comments on what she's looking for among Stanford GSB candidates were among the gems that surfaced during the 2017 CentreCourt MBA Festival, which took place in London, New York and San Francisco. Among the festival highlights in each city were panel discussions with Admissions Directors and Deans from the world's top business schools, including INSEAD, Stanford GSB, Chicago Booth, Berkeley Haas, Kellogg and others. I had the honor of moderating these discussions, probing for industry trends and insights that would support candidates in the MBA application process. Several themes arose between cities and conversations, which I've culled into a short "round-up" series.
Direct from MBA Admissions Directors, here are nine top tips on what they're looking for:
 1.  Beware the tyranny of the Incoming Class Profile.
Don't be misled by the incoming class profile, which can discourage or mislead applicants from picturing themselves at their dream school. Says Niki da Silva, Managing Director of the Rotman Full-Time MBA, "This is one of the worst things I think applicants do, they anchor on these profiles and say 'ah, I'm not this person, I'm not good enough to get into this school.' The challenge with these aggregate profiles is there is no perfect person that is that data point in the class."
Da Silva explains Rotman's practice of publishing the range of GMAT scores achieved by 100% of its incoming class, and then – as is more commonly practiced among schools – showing the score range attained by the mid 80% range of candidates, which gives applicants a sense of where admissions sets the bar. De Silva describes the method as a helpful way for applicants discern areas they may need to convey in their application given any potential gaps or gauge their competitiveness. "I think it's a great tool, and we disclose that because we want to showcase the diversity."
2.  Release perfection and show you've recovered from failure.
Conrad Chua, Cambridge Judge head of MBA admissions, looks for evidence of introspection, and, particularly, where students have failed and emerged with lessons learned. "We want to see how you've bounced back from failure because when you're on the MBA it's going to be tough," says Chua. "And that's becoming quite difficult to see because a lot of the younger generation really seem to have this drive towards being perfect."
Kurt Ahlm, Chicago Booth Associate Dean of Admissions, echoes the mistaken notion of trying to present yourself as a perfect candidate. "Some applicants are trying to show they've got no weakness, or almost too narrow a focus into a career," says Ahlm. "Don't try to out-game the system, just give what is specific to you."
3.  Be authentic.
Another pitfall under the mantle of perfection is straining to project someone you're not. "Be yourself is my best advice," reiterates INSEAD Director of MBA Recruitment and Admissions, Virginie Fougea. "Where is the person behind these essays? Make them true, genuine, honest. We read thousands of essays so just talk about you and that will be interesting enough."
"We are really trying to get at authenticity," says Ahlm of Chicago Booth. "Ultimately it comes down to this pretty simple answer of why you want to go through this two-year experience in a place like Booth? A lot of the application is designed to get at those authentic responses, our processes are designed to really get at that authentic sense of self."
4.  Balance self- awareness and self-confidence.
Booth's Ahlm underscores the importance of authenticity by distinguishing between self-awareness and self-confidence. "If you don't have self-awareness you can't fake it in an application process. If you are naturally very high on self-confidence – to the point where you're very cocky and arrogant – that's going to come through in some way," he says. "Self-awareness is a lot about, 'when do I advocate speaking up in a way that shows that I'm making contributions to my organizations and impacting my people?' …part of that balance of self-awareness is really understanding when am I appropriately telling a story in a correct way and using 'I' in my contributions versus the 'we'. There is no formulaic answer."
5.  Thoughtfully imagine and convey your fit with the culture.

Given the intimidating pool of worthy candidates, Ahlm says that sometimes a ding is less of a judgement on you than a case of poor fit with the program. "We spend a lot of time trying to assess a sense of fit with our culture and we look for people who are really strong thinkers, they apply a very analytical approach to how they make decisions, how they think through problems," says Ahlm. "You could be a better fit in another school. An MBA is not the be all and end all: there's quite a wide range of top schools. I think it's a great point – that people think about what is the right fit for them in terms of who they are, what kind of experience they want, and what they want to get out of it. So if you can convey that in an application, in the interview, I think you will go far."
6.  Showcase your leadership potential and intellectual vitality.
Stanford GSB's Moss wants to know how you've touched people's lives and if you're a curious learner. "At the end of the day – and this is for Stanford but I bet some of this is shared – number one is intellectual vitality. And what does that mean? It means your curiosity," she says. "Sure, I'll see your transcript and what you studied, but that's not really telling me whether you'll be an energizer in the classroom who is really here to learn."
Emphasizing the importance of leadership, Moss reminds that "one of the things that has been proven over and over in research is that highly inspirational leaders who get the highest level of performance from their organizations really know what drives them, and they are thinking beyond themselves to the problems they can change and have an impact on. So in our application one of our key questions is 'what matters most and why?', and it has been an iconic question for a long time. Taking the time to understand what matters to you will be your true north as a leader no matter what school you go to in the rest of your life… You will be one step ahead of the game in terms of being able to motivate others."
7.  Be strategic across your application to avoid redundancies.
Booth's Ahlm cites the importance of storytelling strategically across the MBA application. "There's fixed real estate for you to be able to tell these authentic stories, and share who you are, and that takes some time and it takes a level of strategic thinking that I think is often missed," says Ahlm. "People go through and they fill out the materials and they get the application form, and oftentimes because they do that there are redundancies that naturally come up. You lose space because you've said the same thing multiple times. You forget that the resume itself tells a story. So, I think you have to be smart about the exercise itself as an exercise about how you strategically think and oftentimes that's missed. It's one thing to know your story and what it is you want to convey, it's another to be able to do it effectively in the applications that you'll be filling out, and there are differences."
8.  Shine your uniqueness.
UT Rotman's da Silva shared her program's insider language for sniffing out distinction in its diversity of forms. "We call it the 'spike factor.' — it's what else do you do?" says da Silva. "So maybe a software engineer from India might have started a not-for-profit in their hometown; we have a student who started the largest podcast in India. It's what else do you do that makes you interesting and unique that isn't traditional and isn't what you do for your 9-to-5, but that's actually going to bring you as a person to life."
9.  It's all about you.
"Attend events like [CentreCourt] to see what we say about business school," says Assistant Dean at UT Austin McCombs, Tina Mabley,. "The reality is, this is all about you. And the time that you take and the introspection that you do – a wonderful application will fall out of [it], and so the important work is now."
Speaking to discernment and self-awareness, Mabley says, "You have to do the tough work of self-reflection and figuring out what matters to you, and not what matters to you to sound good to get into school, but what really matters to you and why do you want to go to business school? We have read a lot of applications and yet, still, every application is a story. And what really works is someone who knows who they are, knows what they want to do, knows what they don't know – you're coming to business school for a reason – and puts that together in a coherent fashion. Part of what we review is your judgement, and your judgement about what you put in… You can absolutely see that personality in an application."
Stay tuned for future installments of Fortuna's "round up series" from CentreCourt 2017.
Learn more about Matt Symonds, Fortuna Co-Founder and Director.