Fortuna Ranking of MBA Rankings 2017 – European Business Schools
December 11, 2017 | by Matt Symonds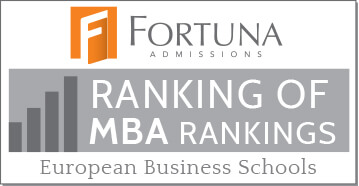 Which is the #1 ranked MBA program in Europe?
It depends on who you ask. For the FT and BusinessWeek the winner in 2017 is INSEAD. Ask The Economist the same question and they say that this year it is HEC Paris. Forbes throws up other options, ranking IMD and LBS at #1 (in separate league tables for one year and two-year programs). Welcome to the fitful world of business school rankings. 
It is this variability in methodology and results that first convinced us to start a Fortuna Ranking of MBA Rankings six years ago. By aggregating the results of all four global rankings of European schools you get a snapshot of overall performance, and remove some of the wild up and down movements in any individual ranking from one year to the next.
Which means that INSEAD comes out on top in 2017, with IESE leapfrogging LBS to take the second spot for the first time. IMD continues with its recovery from a rankings fall from grace in recent years, while HEC Paris maintain their top 5 place for the thirds year in a row.
There are no signs of Brexit Blues for UK schools as we come to the end of the year – Cambridge Judge (#7), Manchester  (#10), Oxford and Warwick have all maintained their positions. But the strongest performances come from Germany's top schools, Mannheim Business School and ESMT Berlin. Has the MBA finally come of age in Europe's largest economy? 
We've included below the results for the top 19 European business schools in the Fortuna Ranking of MBA Rankings 2017. The GMAC Applicant Trends Report 2017 shows the continued growing popularity of shorter one-year MBA programmes, a subject we will be discussing in a live webinar with Poets & Quants editor-in-chief, John A. Byrne on Monday 18th December at 2pm EST / 7pm UK. 
Beyond course length, the Trump effect may persuade a significant number of international applicants to look beyond the US for the MBA. At Fortuna Admissions we have already spoken with a great many young professionals in Latin America, Europe, the Middle East and Asia who have decided to put US plans on hold and focus their attention on Europe and Canada.
Can European business schools seize the day?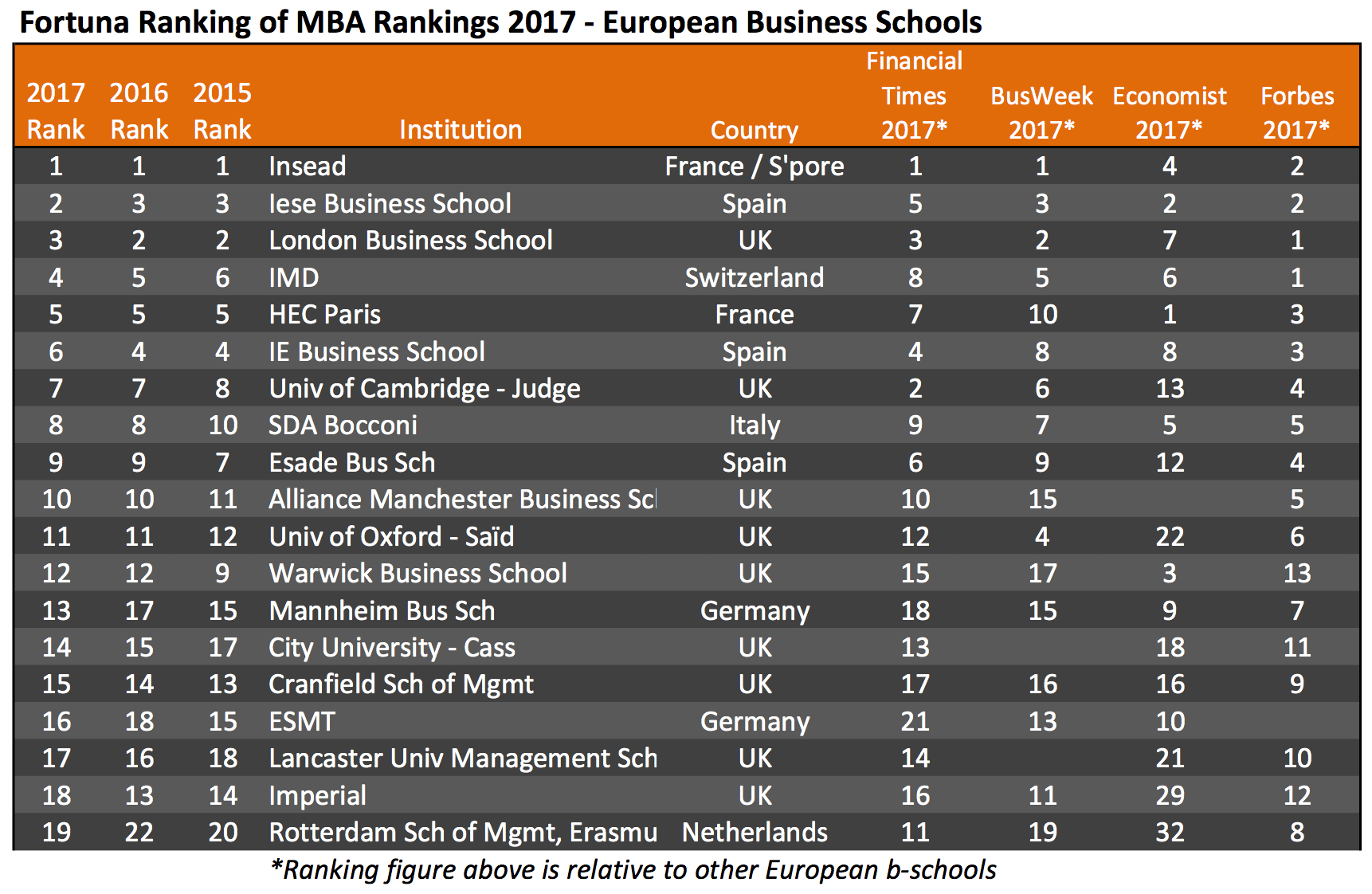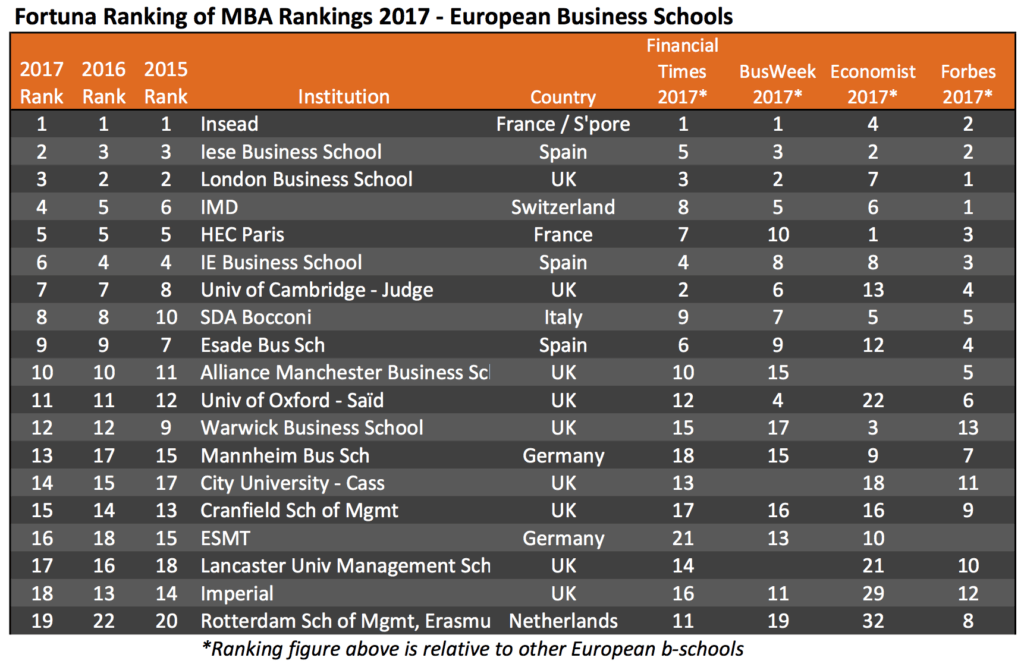 As you digest these results, and their potential impact on deciding where to apply for your MBA, my related article in Forbes poses three fundamental questions to ask yourself as you start your research to find the right business school for you.
Methodology
The idea of the Fortuna Ranking of MBA Rankings is to compare the performance of schools in multiple rankings, and therefore does not include the many good European business schools that appear in fewer than two rankings.
Candidates should remember that this is not scientific approach, and there is no attempt to give greater weight to one ranking over another. As stated before, each ranking uses a different methodology and measures different things with the inherent limitations of each assessment, so doing particularly well in one ranking and less well in another is reflected in the overall average score.
We have compiled the Fortuna Ranking of MBA Rankings since 2011 to show how the top business schools perform across all of the major MBA rankings.
View how top US and European business schools fared over the last several years:
US SCHOOLS
 EUROPEAN SCHOOLS
Matt Symonds is Co-founder and Director of Fortuna Admissions. He is the bestselling author of "Getting the MBA Admissions Edge," and co-organizer of the CentreCourt MBA Festival with Poets & Quants.