MBA Interview Prep: What to Wear on Video
February 25, 2022 | by Karen Hamou

Did you see this selfie of the business school dean that went viral?
As ESMT Berlin Associate Dean Nick Barniville prepared to preside over a virtual MBA graduation via laptop in June of 2020, he posted a photo of himself (at left) in a tuxedo top with shorts and flip-flops below. Nowadays, most of us embrace mullet dressing ('business on top, party on the bottom') with gusto. But if you're tempted to wear your Zoom Shirt for the MBA interview – that ubiquitous go-to garment you throw on before a conference call – remember your audience. The MBA admissions committee (depending on the school, of course) falls into the category of professionals who will rise to the virtual occasion with requisite formality.
Dressing for the MBA interview is about being memorable for the right reasons. In the business school interview context, this means standing out for what you say versus what you wear. As an expert coach at Fortuna Admissions, I field a lot of anxious questions about wardrobe this time of year as candidates prepare for yet another interview season that's mostly virtual.
First, it's perfectly valid — and advisable — to give your appearance thoughtful consideration. Clothes in this context are part of your strategy, and success has a lot to do with situational awareness and professional presence. For the admissions interview, this means knowing your audience: interviewers from adcom to alumni want to see that you're discerning and savvy about self-presentation in a business context. For those of you with a penchant for loud patterns, bold jewelry, or shaggy-fabulous facial hair, trust that your ability to be authentic needn't hinge on making a fashion statement. (Let's save that for day one of welcome week.)
With your MBA interview happening on video, your idea of professional presentation needs to widen to include your background, lighting, sound, Internet connection and other ambient considerations. (Staging is a must, and we'll get to that in next week's article on how to prepare for the virtual MBA interview.)
But since an astounding number of queries circle back to what to wear, let's go there. Here are a few top tips from my experience as an MBA admissions consultant, Columbia Business School alum and fashion industry veteran.
How to Dress for Your Virtual MBA Interview
Clothing:
Despite the virtual medium, for a formal interview (such as Harvard or Wharton) you can't go wrong with business formal attire. For men, that means a suit jacket and, when in doubt, a tie. For women, my personal favorite is the dress-and-jacket combination – it's a little more modern yet still appropriate (but if you're wearing fuzzy slippers, no one will be the wiser).
As illogical as it may feel to suit up for a call in your living room, you will rarely feel awkwardly OVER dressed ­– but you may end up feeling awkwardly UNDER dressed. That said, the interview is a search for authenticity, so if wearing a tie would bother you to the point of distraction, go with your gut.
"I've been recommending upscale business casual as the baseline, tailored to your school and career interests," says Fortuna's Jessica Chung, former UCLA Anderson Associate Director of Admissions. "If a client's post-MBA career plans are in an industry that has a less buttoned-up culture, such as tech or entertainment, leaning more towards the business casual versus tie/suit route can work."
Connecting with an alum may be a signal to dress down, chances being they're working from the home office, too. And if your alumni interviewer works at a Silicon Valley tech campus (where many folks have sworn off ties forevermore), you're probably fine in business casual.
Business casual, for men, is a dress shirt; for ladies, it can be a dress or professional top. Avoid plunging necklines or showing too much skin, like bare arms – styles you might pull off in person with the effect of your full outfit don't work from the shoulders up. Consciously consider your colors given the hyper-contained setting; a well-chosen pastel can brighten your face.
Accessories:
It's important to keep the accessories really subtle. Avoid big earrings, as these can be overly distracting.
Grooming:
Sure, you always want to be comfortable and authentic. But for facial hair, err on the side of more conservative. A clean shave is advisable — your beard/mustache/sideburns will grow back! If you're really attached to your facial hair, fine, just make sure it's well-groomed. If you're someone who talks with your hands (which I'd recommend, to liven up the visual medium), the same goes for nail polish: Think neutrals – it's not the time to wear wacky colors.
Test your video beforehand and ensure your face is well-lit, that you have good posture, are making appropriate eye contact, and that your voice sounds natural.
"Sometimes I laugh when I'm running mock interviews on Skype and see someone's Hello Kitty collection on their bookshelves in the background," says Fortuna Co-Director Judith Silverman Hodara, former head of Wharton MBA admissions. While that's probably better than a beer bottle collection, both are unnecessarily distracting. You'll want to ensure your background is uncluttered and neatly organized. No posters on the wall that might steal your interviewer's precious attention; instead of any elaborate staging keep it simple and plain.
Finally, the message on dressing for the virtual MBA admissions interview isn't that you can't have a bit of fun. It's that you don't want your attire — from nails to necklines — to make a bigger statement than you do.
Want more MBA Interview Tips? 
If you're looking for interview coaching now, you can sign up directly for MBA interview prep with a Fortuna expert coach or explore all services. In the meantime, view Fortuna's MBA Interview Tips for our team's most popular MBA interview articles, from school-specific prep to the M7 interview landscape.
---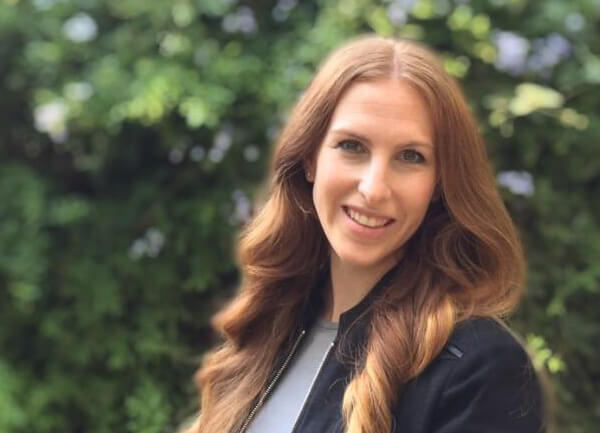 Karen Hamou is an MBA admissions coach with Fortuna Admissions as well as a Columbia Business School alum and former Deloitte Consulting recruiting lead. She was recently featured by Poets&Quants among the Top 10 Most Favorably Reviewed MBA Admissions Consultants of 2020. For a candid assessment of your chances of admission success at a top MBA program, sign up for a free consultation.