Fortuna Ranking Of MBA Rankings 2018 – European Business Schools
December 12, 2018 | by Fortuna Admissions

Which is the #1 ranked MBA program in Europe in 2018?
For the past four years, INSEAD has held the top spot in the Fortuna Ranking of MBA Rankings for European Business Schools,  which combines the results of the league tables published by the Financial Times, BusinessWeek, The Economist and Forbes. By aggregating the results of all four global rankings of European schools, we offer a snapshot of overall performance, and remove some of the wild up and down movements in any individual ranking from one year to the next.
But this year, INSEAD shares the top spot with Spain's IESE Business School. It is the first time since the Fortuna Ranking of MBA Rankings began in 2011 that IESE has reached #1, after many years in the top 3 or 4.
The other big winner this year is Switzerland's IMD, whose MBA program continues a strong recovery from three years in rankings purgatory. Building on the top ranking in Forbes last year, the school on the shores of Lake Geneva was the highest ranked European school in the first global MBA ranking published two days ago by BusinessWeek, and comes in at #4 on the Fortuna Ranking of MBA Rankings. Competition for one of IMD's 90 spots has risen sharply, with applications up 63% in the last year.
While Brexit turmoil is far from over, the future innovators of Renewable Energy and FinTech are flocking to London Business School and Imperial College Business School to hone skills and access unrivaled networks in what remains Europe's leading financial center. Despite the social and political uncertainty, demand for international programs have rarely been higher.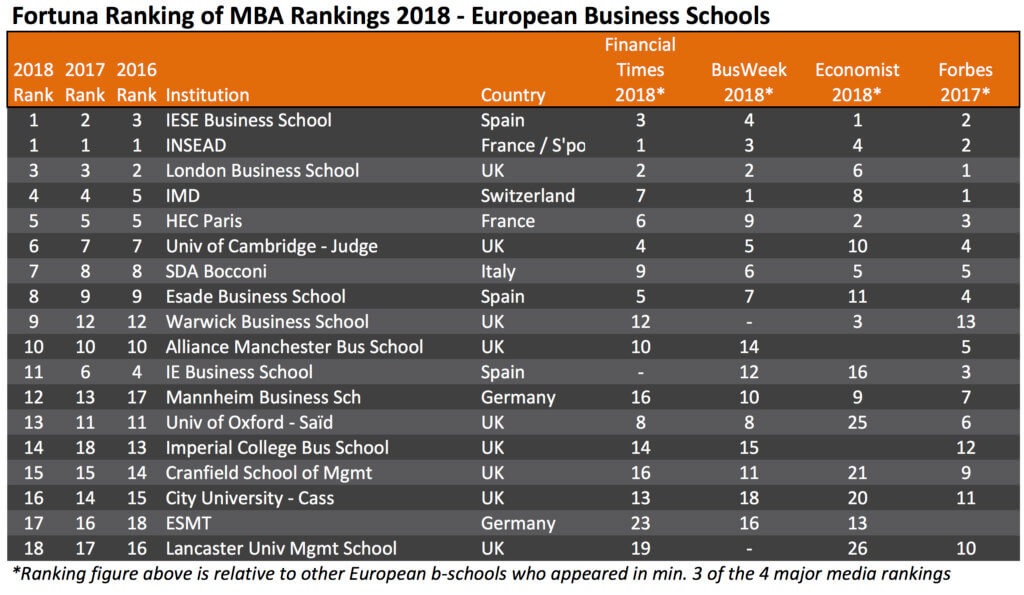 As you digest these results, and their potential impact on deciding where to apply for your MBA, view my related article in Forbes, which offers additional analysis and explores why so many candidates are purusing business school in Europe.
Methodology
The idea of the Fortuna Ranking of MBA Rankings is to compare the performance of schools in multiple rankings, featuring schools who appeared in at least three of the four major MBA rankings in the past 12 months. Therefore, it does not include the many good European business schools that appear in fewer than three rankings.
Candidates should remember that this is not scientific approach, and there is no attempt to give greater weight to one ranking over another. As stated before, each ranking uses a different methodology and measures different things with the inherent limitations of each assessment, so doing particularly well in one ranking and less well in another is reflected in the overall average score.
We have compiled the Fortuna Ranking of MBA Rankings since 2011 to show how the top business schools perform across all of the major MBA rankings.
View how top US and European business schools fared over the last several years:
US SCHOOLS
EUROPEAN SCHOOLS