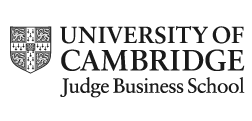 About

The School
Cambridge Judge Business School is the business school of the University of Cambridge, one of the oldest — and most prestigious — universities in the world. With around 225 students per year, the programme is considerably smaller than its main rival, Saïd Business School at the University of Oxford. Like Saïd, the Judge MBA is an accelerated one-year alternative to the UK's leading MBA programme at London Business School.
Also, like Oxford, Cambridge operates within the unique college system. There are 31 colleges at the University of Cambridge, and most MBA students will be admitted to a specific college as well as to the MBA program itself, providing networking, social and learning opportunities with students studying an array of other courses. Judge encourages its global student pool to work collaboratively, to innovate, and to become the sort of leaders who will make a positive impact.
Judge takes full advantage of its proximity to, and links with Silicon Fen, or the 'Cambridge Cluster', home to what it calls 'a global hotspot of entrepreneurial activity, tech genius and innovation'. There is no doubt that Judge has carved out a niche for itself in the digital transformation scene, but it also offers interesting concentrations in Culture, Arts and Media Management, and in Healthcare Strategies.
With its own accelerator, Judge offers a vibrant, innovative environment within a quintessentially English county town setting. Cambridge is known particularly for its strengths in entrepreneurship and innovation, although a sizeable portion of the class exits onto more "traditional" post-MBA career paths such as finance and consulting. Current companies employing the most Cambridge MBAs include McKinsey, Amazon, Bain & Co., and Citi. It's also notable that in the most recent employment report, 86% of class grads switched employment sectors.
Cambridge Judge has also introduced a new Sustainability pathway which offers two separate concentrations, one in Sustainable Business and one in Energy and Environment.
Strengths And Specializations:
Entrepreneurship, finance, organizational behavior, corporate strategy, healthcare, sustainability
Incoming Class:
Number of applicants – N/A
MBA Class size – 210
Annual tuition  – £64,000
Post-MBA Sectors: Industry 37%(10% of this into tech); Finance 30%; Consulting 29%
Avg. Base Salary – £75,198
Salary Increase – 98% 
Employment in 3 months – 94% 

Admissions
Avg. Work Experience – 6 
Average GMAT – 690
International Students – N/A
Female Students – 47% 
Deadlines R1: Aug 29 2023, R2: Oct 3 2023, R3: Jan 8, 2024, R4: Mar 11, 2024, R5: May 7, 2024
Essays:
Please provide details of your post-MBA career plans. The statement should not exceed 500 words and must address the following (520 words)
What are your short and long-term career objectives? How will the Cambridge MBA equip you to achieve these?
Looking at your short-term career goal, describe the research you have done to understand how this industry/role/location recruits MBA talent and what they are looking for in a candidate?
How confident do you feel about meeting your short-term career goal? What skills/characteristics do you already have that will help you to achieve them, and what preparation are you doing now?
Other Essays:
Tell us about a time when you made a professional mistake. How could it have ended differently? (200 words)
Tell us about the best team you worked with. What made the team successful? (200 words)
Provide an example of when someone else positively impacted your life. What did you learn from this experience? (200 words)
Fortuna Tips & Advice 
Read Fortuna's Essay Tips & Strategy for Cambridge Judge.  
Request a copy of our team's Insider Tips Report for Applying to Cambridge Judge.