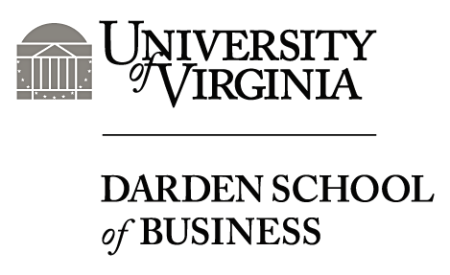 About Darden School of Business
In its 2019 ranking, The Financial Times named Darden the #1 MBA program in the world for Corporate Social Responsibility, driven by the school's commitment to teaching ethical, social and environmental issues. The FT also ranked Darden #1 for General Management.
Darden offers unique experiential learning opportunities and practical applications. From consulting projects to seminars to live action cases, students immerse themselves in real-world problems and develop skills to tackle these issues. Students can pursue several different concentrations from asset management to innovation for sustainability to supply chain management. They can develop industry expertise and deepen technical skills through Darden's unique management science specialization. The latter is for students who want to add a quantitative/analytical focus to the general management curriculum. This specialization carries a STEM designation, giving international students with F-1 status who meet certain requirements the possibility of 36 months of work authorization in the US after graduation.
Darden also teaches how to navigate the global environment, understand different cultures and develop an appreciation for how business is done through Darden Worldwide Courses.
Charlottesville, a small but vibrant college town, surrounds Darden students with the natural beauty of the Blue Ridge Mountains, a temperate climate, hundreds of miles of hiking trails, and high concentration of restaurants serving food and wine from the region's abundant farmlands.
Strengths And Specializations
General management, management science, corporate social responsibility and ethical leadership

Incoming Class
Number of Applicants: 2,984
MBA Class Size: 348
Tuition: $71,112
Post-MBA Careers
Career Sector: Consulting 43.5%; Financial Services 25.4%; Technology 13.8%; Healthcare & CPG 3.4%; Starting own business (n/a)
Top Recruiters: McKinsey, Amazon, Bain, BCG, Bank of America, Credit Suisse, Microsoft, EY Parthenon, Danaher, Dell Technologies, Deloitte, JP Morgan Chase, Lazard, Morgan Stanley, Strategy&, Wells Fargo
Avg Base Salary: $157,090
Salary Increase: 141%
Employment in 3 months: 97.5%
Darden Ranking


Darden MBA Admissions
Avg. Age: 28
Avg. GPA: 3.51
Avg. GMAT: 720
International Students: 43%
Female Students: 37%
Deadlines for 2023-2024: R1: Oct 04, 2023, R2: Jan 04, 2024, R3: Apr 03, 2024
Sources: HBS, BusinessWeek, Financial Times, US News
Essays
Section 1: Community and Belonging
Student clubs and organizations at Darden enhance and integrate with the academic experience through social, cultural and community events.
What would you want your classmates to know about you that is not on your resume? (100 words)
Section 2: Inclusive Leadership
Please describe a tangible example that illuminates your experience promoting an inclusive environment and what you would bring to creating a welcoming, global community at Darden. (300 words)
Section 3: Careers with Purpose
At this time how would you describe your short-term, post-MBA goal in terms of industry, function, geography, company size and/or mission and how does it align with the long-term vision you have for your career? (200 words)  
Fortuna Tips & Advice