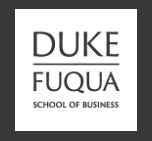 About

The School
In its relatively short history, The Fuqua School of Business at Duke University has established itself as one of the leading MBA programs in the world. Based in Durham, North Carolina, Duke is part of the world-renowned Research Triangle Park (RTP), one of the oldest and largest science parks in the US with over 200 companies ranging from startups to multinationals. In fact, the Triangle area has recently received national recognition as one of the best places for business and careers.  
 
Fuqua and Duke see themselves as a vital part of this growth. They are looking for individuals who want to do well in business, but also want to make a positive impact their community and the world. (Prominent alumni include Apple CEO Tim Cook and philanthropist Melinda Gates.)  
The Fuqua culture is incredibly collaborative and close-knit – Team Fuqua isn't just a saying, but a commitment that the students, faculty and staff make to one another (which extends to partners of students). Fuqua may have a reputation for marketing & general management, but consulting has quickly become a major area of focus; six of its top 10 employers were consulting firms last year. 
Strengths And Specializations
Health Sector Management, Marketing, Technology, Social Entrepreneurship, Entrepreneurship & Innovation 
Incoming Class
Number of applicants (if possible) – 3,356 
MBA Class size – 408 
Annual tuition (converted to USD) – $140,000 
Post-MBA Careers
(4 Sectors) 
31% Consulting 
18% Finance 
27% Tech 
8% Health 
 
Avg. Base Salary – $135,935 
Salary Increase – 123% 
Employment in 3 months – 93.5 

Admissions
Avg. Work Exp. – 5.6 
Average GMAT – 702 
Int'l Students – 38% 
Female Students – 46% 
Deadlines (2021-2022 TBD)  
Essays:
Short Answer Question:  
What are your post-MBA career goals? Share with us your first choice career plan and your alternate plan. (500 characters only, the equivalent of about 100 words) 

Essay 1.  25 random things about yourself  
Present your response in list form, numbered 1 to 25; limit your response to 2 pages / 750 words maximum. 
Essay 2. What are 3 ways you expect to make an impact at Fuqua? (300 word max) 
Optional Essay: If you feel there are circumstances of which the admissions committee should be aware (such as unexplained gaps in work, choice of recommenders, inconsistent or questionable academic performance), please explain them in an optional essay. 
Fortuna Tips & Advice 
Read Fortuna's Essay Tips & Strategy for Duke Fuqua. 
Request a copy of our team's Insider Tips Report for Applying to Duke Fuqua.