FORTUNA RANKING OF MBA RANKINGS 2019 – EUROPEAN BUSINESS SCHOOLS
December 16, 2019 | by Fortuna Admissions

Which is the #1 ranked MBA program in Europe in 2019?
For the fifth consecutive years, INSEAD has claimed the top spot in the Fortuna Ranking of MBA Rankings for European Business Schools,  which combines the results of the league tables published by the Financial Times, BusinessWeek, The Economist and Forbes. By aggregating the results of all four global rankings of European schools, we offer a snapshot of overall performance, and remove some of the wild up and down movements in any individual ranking from one year to the next.
As you digest these results, and their potential impact on deciding where to apply for your MBA, view my related article in Forbes, which offers additional analysis and explores why so many candidates are purusing business school in Europe.
Methodology
The idea of the Fortuna Ranking of MBA Rankings is to compare the performance of schools in multiple rankings, featuring schools who appeared in at least three of the four major MBA rankings in the past 12 months. Therefore, it does not include the many good European business schools that appear in fewer than three rankings.
Candidates should remember that this is not scientific approach, and there is no attempt to give greater weight to one ranking over another. As stated before, each ranking uses a different methodology and measures different things with the inherent limitations of each assessment, so doing particularly well in one ranking and less well in another is reflected in the overall average score.
We have compiled the Fortuna Ranking of MBA Rankings since 2011 to show how the top business schools perform across all of the major MBA rankings.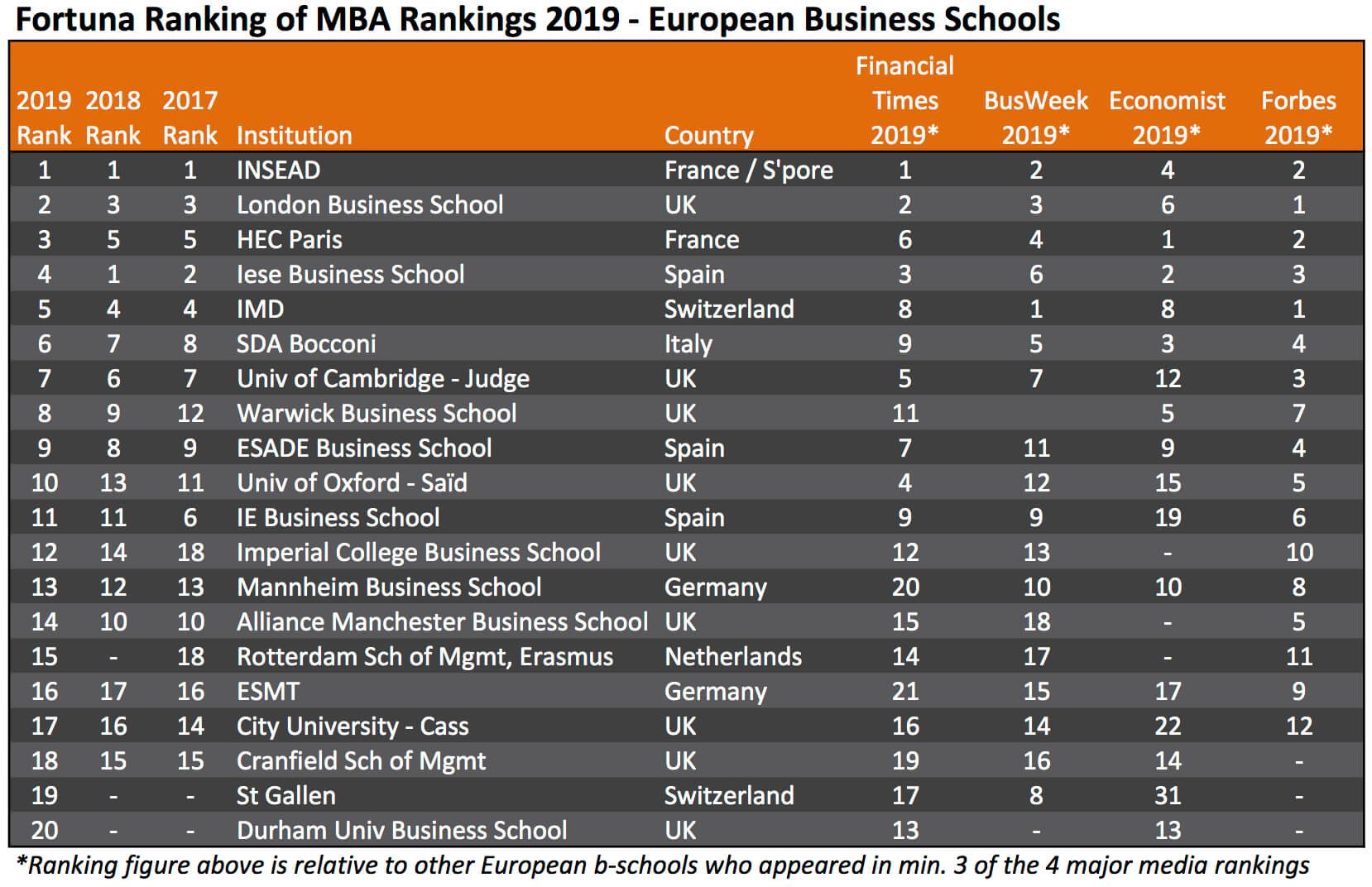 View how top US and European business schools fared over the last several years:
US SCHOOLS
EUROPEAN SCHOOLS