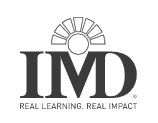 About

The School
Founded in 1990, in just 40 years, IMD has earned a place amongst Europe's most elite business schools. With a class of just 90 students, most with around 7 years of work experience, you'll find an older, closer cohort here than at many other top business schools. 

The school prides itself on its personal touch (the professor to student ratio is 1:2), strong links to the business community and hands-on approach to learning. Switzerland is a world leader in FinTech, as well as home to a number of multinational headquarters of consumer products, finance, luxury and healthcare companies, and IMD MBA students benefit from proximity to this ecosystem. About 30% of the course is delivered in an experiential manner, with consulting projects with companies, simulations, and other 'outside of the classroom' learning opportunities. The school's digital, entrepreneurial and global environment allows students to develop relevant, comprehensive leadership skills – empowering them to make a real difference in an ever-changing world.

The school, which is located in the Swiss city of Lausanne, a city situated on Lake Geneva, boasts lake and mountain views and a plethora of outdoor activities at easy reach. Many students are active in sports like skiing, biking and sailing. The MBA partner integration programme is a unique selling point for MBA participants with partners and families, and underscores the highly personal, community-driven approach of the programme. 
Strengths And Specializations
General Management, Technology, FinTech, Entrepreneurship
Incoming Class
Number of applicants (if possible) – TBD 
MBA Class size – 97 
Annual tuition (converted to USD) – $103,975 
Post-MBA Careers
27% Consulting 
9% Finance 
64% Industry 
 
Avg. Base Salary – $132,280 
Salary Increase – 67% 
Employment in 3 months – 83% 
IMD Rankings

Admissions
Avg. Work Exp. – 7 
Average GMAT – TBD 
Int'l Students – TBD 
Female Students – 34% 
Deadlines (2021-2022 TBD)  
Essays:
1) Describe a situation in which you failed as a leader. What did you learn from it? (limit 300 words)
2) (optional)Is there any additional information that is critical for the Admissions Committee which has not been covered elsewhere in this application? (e.re-application, health, grades, etc.) (limit 50 words)

3) How do you intend to finance your MBA at IMD? How much of your total budget estimate will you be able to provide without loans or scholarships?(limit 50 words) 
 4) What other programs are you considering? Of the programs you are considering, what can IMD bring to you as a differentiator?(word limit 100) 
Fortuna
 Tips & Advice
Read Fortuna's Essay Tips & Strategy for IMD (including Career Development Qs)  
Request a copy of our team's Insider Tips Report for Applying to IMD