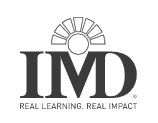 About

The School
IMD was founded in 1990, and in just 40 years, it has earned a place amongst Europe's most elite business schools. With a class of just 100 to 120 students, the professor to student ratio is 1:2, and students find the flexibility to personalize their program. The staff gets to know every student, starting with relocation and housing assistance and a partners' integration program.
IMD's MBA is an accelerated one-year program beginning in January, with a unique admissions process. Promising candidates are invited to take part in an assessment day, held either online or in person. It's a fast-paced, nearly full day that includes a brief individual interview and activities that simulate the MBA experience. Groups of six to 10 applicants analyze and present a case, present a position on a challenging issue, and take part in other sessions modeled on course experiences.
This allows the admissions team to see and assess candidates in action. Those who do well are offered admission. A second, similar pathway called Challenge Days allows applicants to compete for admission with a generous scholarship.
IMD's strong focus on leadership development is evident in its full name: the International Institute for Management Development. Global business exposure and sustainable growth are emphasized. IMD was founded by businessmen, and its MBA program remains closely tied to Switzerland's fintech industry and the multinational headquarters of consumer products, finance, luxury and healthcare companies there. IMD's students benefit from proximity to this ecosystem. About 30% of the course is experiential projects; early in their programme all students are placed in a consultancy with a new or expanding company to guide its growth. These hands-on experiences allow students to develop relevant, comprehensive leadership skills.
Strengths And Specializations
General management, technology, fintech, entrepreneurship
Incoming Class
Number of applicants: N/A
MBA Class size: 87
Annual tuition: €81,179
Post-MBA Careers
Sectors: Consulting 39%; Manufacturing 13%; Healthcare 11%; Finance 10%
Top Recruiters: BCG, Amazon, Bain, Danaher, McKinsey, ZS, Lilly, Arthur D. Little, Credit Suisse, Deloitte
Avg. Base Salary: €114,846
Salary Increase: 72% 
Employment in 3 months: 90%
IMD Rankings

Admissions
Avg. Age: 29
Avg. Work Experience: 6 
Avg. GMAT: 680
International Students: 99%
Female Students: 36% 
Deadlines for 2023-2024:  Earlybird: June 15, 2023; Aug 15, 2023; Sep 15, 2023; Oct 15, 2023
Essays
1) What is the most difficult decision you have had to make as a leader? (300 words)
2) (Optional) Is there any additional information that is critical for the Admissions Committee which has not been covered elsewhere in this application? (i.e. re-application, health, grades, etc.) (100 words)
Fortuna
 Tips & Advice
Read Fortuna's Essay Tips & Strategy for IMD (including Career Development Qs)  
Request a copy of our team's Insider Tips Report for Applying to IMD