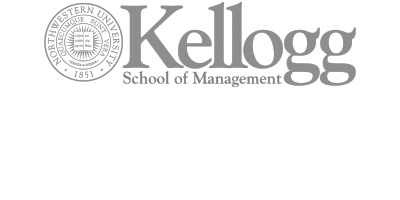 About Kellogg
Northwestern University's Kellogg School of Management sits on the shoreline of Lake Michigan in Evanston about 12 miles north of downtown Chicago. Long stereotyped as the school for marketing, Kellogg is in fact so much more. The school looks for strong quant skills to underpin sharp analytical skills. Kellogg's MBA programs prepare graduates for careers that are "high-impact and high-humanity." Accordingly, the learning style of the MBA program features a heavy emphasis on collaboration and teamwork – "we" rather than "I." That culture continues long after a Kellogg degree is obtained, as the alumni community is known for its "pay-it-forward" mentality.
Kellogg offers a wide range of academic concentrations, priding itself on co-curricular opportunities to complement classroom learning. Experiential international opportunities are vast and encouraged. Each year, roughly 250 students participate in the Global Initiatives in Management (GIM) program, selecting from numerous winter quarter courses that conclude with 10 days visiting another country.
Kellogg has also expanded its degree offerings to meet evolving market needs. The ever-popular MMM program that grants graduates both an MBA and an MS in Design Innovation launched three decades ago, and in recent years Kellogg created the 1.5-year MBAi program, another collaboration with Northwestern's McCormick School of Engineering that equips leaders building careers in the age of AI.
Strengths And Specializations
Marketing, general management, non-profit/social responsibility, production/operations, strategy, entrepreneurship, healthcare, consumer goods
Incoming Class
Number of Applicants: 4,187
MBA Class Size: 503
Tuition: $156,552
Post-MBA Careers
Sector: Consulting 38%; Technology 24%; Financial Services 17%; CPG 8%; Students starting new business 17%
Top Recruiters: McKinsey, Bain, BCG, PwC Strategy&, EY Parthenon, Accenture, Lincoln International, Amazon, Adobe, JP Morgan, Nike, Google, Meta, Visa, Wayfair
Avg Base Salary: $159,000
Salary Increase: 122%
Employment in 3 months: 98%
Kellogg MBA Rankings


Admissions
Avg. Age: 28
Avg. GPA: 3.7
Avg. GMAT: 729
International Students: 38%
Female Students: 48%
Deadlines for Sept 2023-24: R1: Sep 13, 2023, R2: Jan 10, 2024, R3: Apr 3, 2024
Sources: Kellogg, BusinessWeek, Financial Times, US News
Essays 2023-2024
Required Essays:  
1. (New in 2023-2024) Kellogg Leaders are primed to tackle today's pressing concerns everywhere, from the boardroom to their neighborhoods. Tell us about a time in your life where you've needed a combination of skills to solve a problem or overcome a challenge. Which skills did you use? What did you accomplish? (450 words)
2.  At Kellogg, our values are based on research that concludes organizations comprised of leaders with varied backgrounds and perspectives outperform homogeneous ones. How do you believe your personal and professional experiences to date will help to enrich the Kellogg community? (450 words)
3. (Optional) We know that life is full of extenuating circumstances. Whether you want to explain gaps in work experience, your choice of recommenders, inconsistent or questionable academic performance or something else, you can use this section to briefly tell us anything we need to know about your application. (250 words)
VIDEO ESSAY, due 96 hours after the application deadline. There are three questions, and you'll have 20 seconds to think about the question and up to one minute to give your response. (Takes about 20-25 mins to complete.) Expect to be asked:
Please introduce yourself to the admissions committee.
What path are you interested in pursuing, how will you get there, and why is this program right for you?
Video essay 3: This question will be based on a challenge you've faced and what you've learned from it.
Fortuna Tips & Advice
View our team's tips and advice on how to respond to the Kellogg MBA Essays.
You can also request a copy of our team's Insider Tips Report for applying to Kellogg.