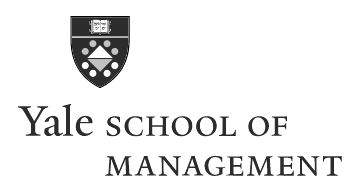 About

The School
Over the past 10 years, Yale SOM has become one of the most sought-after MBA programs with applications topping 4,000 for a class of approximately 350. Yale SOM was the first US program that required international travel for its graduates, and international students comprised 31% of the class of 2020. SOM also benefits from strong connections with Yale University, with an international network and brand recognition rivaled by only a handful of institutions on earth. Few MBA students turn down the opportunity to engage with other departments and take advantage of the rich learning environment around campus.
Yale SOM is a great school for people who are intrigued by complex, dynamic problems that will require big ideas and multi-disciplinary solutions. It might be fair to think of it as a "liberal arts" approach to business education. It's a place for curious, forward-thinking students who like to make new connections and see old problems from new angles. The school has distinguished itself as a leader when it comes to DEI and has invested heavily in programs and partnerships that elevate traditionally underrepresented voices in business and business education.
Finally, Yale SOM very much considers management – not "business" – a profession on par with law, medicine, or architecture. That is, practitioners should not be blind to the moral dimensions of their work and its impact on the public good. Thus, the school is a natural fit for leaders with a strong interest in ESG, and applicants who are drawn to the power and promise of public-private ventures of the kind required to address the world's most pressing problems (e.g., climate change, global pandemics, extremism, global capitalism, and so on).
Strengths And Specializations
Sustainability and environmental responsibility, social impact and nonprofit management, ethics, healthcare, finance, entrepreneurship, innovation and technology
Incoming Class
Number of applicants – 3,237 
MBA Class size – 347 
Annual tuition – $164,400 
Post-MBA Careers
Career Sectors – Consulting (46%); Finance (21.7%); Technology (7.6%); Retail (6.5%); Starting own business (4.6%)
Avg. Base Salary – $160,110 
Salary Increase – 139% 
Employment in 3 months – 96% 
Yale SOM Rankings

Admissions
Avg. Work Exp. – 4.7 
Avg. GMAT – 725 
International Students – 48% 
Female Students – 43% 
Essays:
Please respond to one (1) of the three essay prompts below. (500 words)
1) Describe the biggest commitment you have ever made. Why is this commitment meaningful to you and what actions have you taken to support it?
2) Describe the community that has been most meaningful to you. What is the most valuable thing you have gained from being a part of this community and what is the most important thing you have contributed to this community?
3) Describe the most significant challenge you have faced. How have you confronted this challenge and how has it shaped you as a person?
Optional: If any aspect of your candidacy needs further explanation (unexplained gaps in work experience, choice of recommenders, academic performance, promotions or recognition, etc.), please provide a brief description here. (200 words) 
Fortuna
 Tips & Advice
Read Fortuna's Essay Tips & Strategy for Yale SOM and related article, Yale SOM Pre-Interview Questions & Quote. 
Request a copy of our team's Insider Tips Report for Applying to Yale SOM.  
View our hour-long video strategy session: MBA Admissions Masterclass on Berkeley Haas, Duke Fuqua, UCLA Anderson and Yale SOM.