How to Get Into HEC Paris
January 02, 2022 | by Brendan Kramp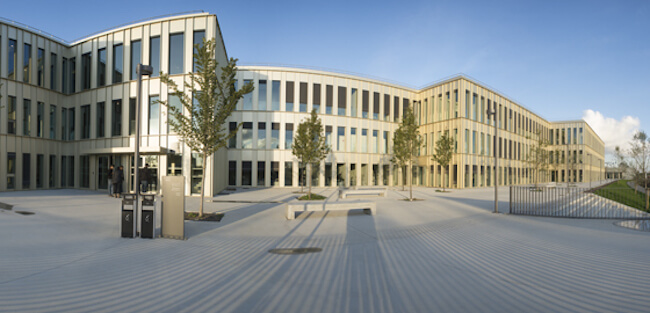 HEC Paris was crowned the top European business school for the third straight year by The Financial Times in 2021.
Last year's graduates garnered the third highest median base salary ($168,436) of any international program, with a 118% percent increase. With its approximately $116,500 tuition fee, the FT also noted that HEC is one of the comparatively more affordable options for those looking at top-ranked programs.
Part of HEC's appeal – along with its pastoral 340-acre campus just outside of Paris – is the balance it strikes between one-year MBAs like INSEAD and a traditional two-year program. The structure of the  16-month program at HEC presents the academic rigor an accelerated program while allowing students to pursue internships or fieldwork projects during one of the four-month segments. Many students seize this opportunity to gain work experience and later entry to desired companies in places like Paris, London, Hong Kong and New York.
HEC's prestige and international scope have continue to grow in recent years, with nearly 90% of students coming from outside France. Meanwhile, HEC is reporting an uptick in interest from North American candidates: 21% of its September 2021 MBA intake hails from the US or Canada (while historically it's been between 10-11%). The school has created numerous dual degree partnerships with universities like Yale and NYU in the United States, LSE in the United Kingdom and Chinese University of Hong Kong and Tsinghua University in China, bolstering chances to learn in two international environments and benefit from their robust alumni networks and career services offices. Last year, HEC launched a new dual-degree partnership with esteemed culinary school L'atelier des Chefs, touted to be the first double degree in French cooking for Masters in Management students.
So, what is HEC seeking in an ideal candidate? Besides good academic progression and a solid GMAT performance (the average score is 690), HEC wants evidence of ambitious professional goals and an international background. Candidates should hone in on how the school's global orientation, program structure, academic intensity, program structure and connection to a worldwide network resonates with your longer term aspirations.
Here are three essential tips  for crafting a standout application to HEC Paris:
1. Understand how HEC is distinctive.
Compared to many of its European counterparts, HEC is unique because the MBA program runs alongside a significant cohort of college-aged students pursuing a Masters in Management at the Grande Ecole. Attracting top speakers and recruiters to campus, HEC's Grande Ecole is one of the top-rated programs on the continent with many of regarded professors teaching in the MBA program as well. HEC has also differentiated itself by organizing the annual MBA Tournament (MBAT), a months-long, class-wide, initiative involving volunteers, committees, resources, teams and more, culminating in a memorable multi-school weekend in France. It's one the notable bonding experiences that makes HEC's MBA idiosyncratic and showcases the school's value for true hands-on learning.
When thinking of how to parlay this within your essays and interviews, it's helpful to link your passions and plans to individuals or organizations that highlight HEC's influence globally. One tactic that might be prudent is to note several HEC alumni who have made an impact in leadership positions at companies that resonate with you. Connect with  local alumni in your geography to gain their additional perspectives on the program. Discussing how you understood the benefits of an HEC MBA directly from past students provides insights and an advantage when articulating the program specifics of that most excite you.
2. Link your story and professional path to HEC's values.
All MBA programs are looking for candidates who will make long term contributions to their alma mater via their career progression, future leadership positions and alumni engagement. While HEC is looking for certain core competencies and achievements, candidates are selling their future aspirations as much as their current accolades and standardized test scores. It is imperative to understand how your professional plans intersect with the school's values, and clearly present  them amidst your broader narrative about why you are pursuing an MBA.
Do you plan on launching your own entrepreneurial venture down the line? Do you aspire to changing the ways we source energy? Do you have a desire to leverage  technology to better a seemingly insurmountable challenge? All of these are great narratives around your potential to make an impact, and they become even more compelling to HEC's admissions committee when you relate them to the specifics of the school and the life-long value of the program will help you achieve those goals.
3. Present a strategic, global vision for your future.
HEC has evolved into a considerably international MBA program, and global exposure serves as a significant differentiator for candidates embarking upon the program. If you have spent time living or working beyond outside your home country, consider how these cross-cultural experiences have impacted you professionally and personally. If your international exposure lies more around interacting with global clients, work teams, vendors or service, have some salient examples of how you collaborated successfully with individuals across different cultures, backgrounds and languages. Articulating how you adapted your working style and perspectives to achieve mutual success can serve as a powerful component of your application. Be mindful to also articulate what distinguishes you from your fellow applicants. Describe what makes you unique and clearly explain how the global vision you hold for your future will benefit from and contribute to HEC's broader network .
Note: While time spent in other countries during short stints like vacations are notable, avoid generating an laundry list of places you have visited. A powerful narrative technique is to cite specific examples that impart key qualities or lessons learned – like someone you encountered or an experience that impacted your world view or sense of self. HEC is seeking to understand how your time abroad has shaped you into a wiser persona and how this translates to your professional goals and broader life objectives.
For more advice on HEC Paris, view my recent article on how to tackle the HEC essays and interview presentation, or explore why it's a great time to apply for an international MBA.
Updated Jan. 3, 2021