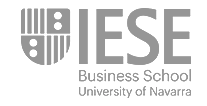 About

The School
IESE was founded in 1958 and is part of the University of Navarra. The philosophy of the school is based on a people-centered, integrative, and socially responsible approach to business, building on their values of professional excellence, integrity, and spirit of service. The main campus of IESE is in Barcelona, Spain, with additional campuses in New York, Sao Paolo, Shanghai, and Nairobi. 
 
Central to the learning experience on the IESE MBA is the Case Method. In highly diverse and international teams, IESE MBAs work through more than 600 cases during the programme. During the elective portfolio, students can choose from four concentrations: International Business, Finance, Data Analytics & Digital Business, and Entrepreneurship & Innovation. Beyond the entrepreneurship curriculum, students have the opportunity to do a summer entrepreneurship experience, working in project teams on either their own idea or someone else's. Budding entrepreneurs would do well to investigate IESE's impressive entrepreneurial ecosystem. 
Strengths And Specializations
General Management, CSR/Ethics 
Incoming Class
Number of applicants (if possible) – TBD 
MBA Class size -366 
Annual tuition (converted to USD) – $108,964 
Post-MBA Careers
33% Consulting 
23% Finance 
15% Tech 
 
Avg. Base Salary – $104,521 
Salary Increase – 119% 
Employment in 3 months – 87% 

Admissions
Avg. Work Exp. – 5 
Average GMAT – 670 
Int'l Students – 85% 
Female Students – 31% 
Deadlines (2021-2022 TBD)  
Essays:
Essay 1: If you had to come up with a motto for your life, what would it be and why? Please give an example of how you have demonstrated it (300 words max) 
Essay 2: Describe your short and medium term post-MBA goals? How will the IESE MBA help you achieve them? (300 words max) 
Optional Essay: What would you like to highlight about yourself or your journey which may have not been captured in your application? (300 word max) 
Fortuna
 Tips & Advice
Request a copy of our team's Insider Tips Report for Applying to IESE.