KEY TOUCHPOINTS FOR PERSONAL INTERACTION WITH BUSINESS SCHOOLS
March 29, 2018 | by Kristen Beyers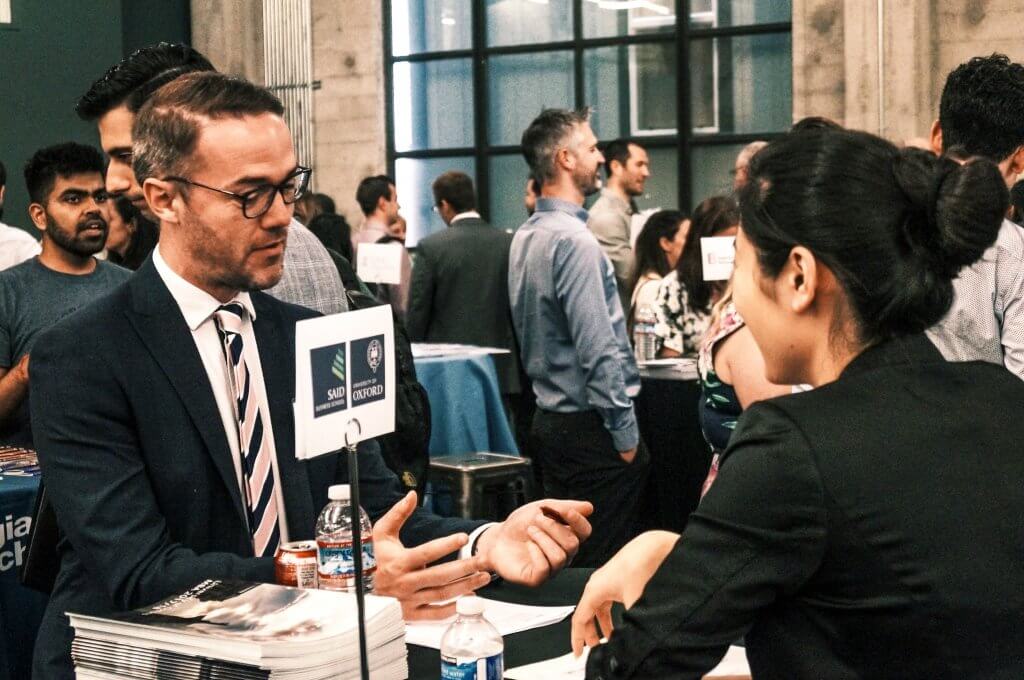 From campus visits to MBA networking events, you want to take advantage of these key touchpoints on offer from your top schools. 
A major milestone in the business school application process is your admissions interview, but if you're lucky enough to receive one it shouldn't be your first interaction with the program. Sensing mutual "fit" is a vital component of admissions success, and MBA programs offer a variety of touchpoints for face-to-face interaction. Whether you take full advantage of these opportunities or not can set you apart from other high-achieving professionals: Not only do you have the chance to make a lasting personal impression with an admissions gatekeeper, you can you acquire invaluable connections and insights to bolster your application.
Here are four key touchpoints to take advantage of to boost your personal interaction with the business schools on your list:
1. Participate in an MBA Networking Event
After doing some honest self-reflection about your skills, strengths and motivations to pursue the MBA, as well as which schools you intend to target, consider attending an MBA Fair or networking event. (The CentreCourt MBA Festival, co-hosted by my Fortuna colleague Matt Symonds and Poets&Quants, takes places in nine cities throughout 2018.) MBA Fairs are an prime opportunity to gauge program fit and if a school is right for you. It's also a chance to explore schools that weren't initially on your radar and hear from their admissions representatives.
2. Visit Campus
Nothing will give you a stronger sense of the vibe and culture of a school than a campus visit. You can also gather a great deal of insight to strengthen your application.
3. Prepare for a Video Component
More schools that ever before are adopting video questions in their MBA applications, including MIT Sloan, Yale SOM, INSEAD, LBS and Kellogg, among others. It's a positive development, in that it offers yet another means of expressing yourself and convey your candidacy. It also brings your application to life for the admissions staff and offers an initial glimpse of you as a person before the more formal interview. While programs pose different questions with time limits to respond, all are hoping for an authentic and unscripted glimpse of your passions, motivations, maturity and character.
4. Prepare for Your Admissions Interview
First, get to know the MBA interview landscape, as interviews formats can vary greatly depending on the program. Whether you're paired with an alum for a blind interview (like Stanford GSB) or an admissions officer who has read your entire file (like HBS), you'll need to speak with sincerity and poise about your career goals, why an MBA and your ardent interest in this particular school.
Stay tuned for part 2 of this article, Maximizing Your Personal Interactions with Schools.
For more advice on this topic, view my brief video strategy session with Fortuna Director Matt Symonds.
Fortuna Admissions Expert Coach Kristen Beyers is former Yale SOM Former Deputy Director of Admissions and Senior Associate Director of Career Development. A version of this article was originally published by Kristen in Poets & Quants.