Top Tips for Tackling the Cornell Johnson MBA Application
September 27, 2019 | by Randall Sawyer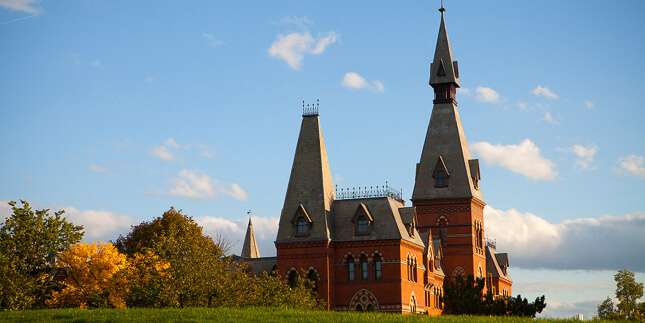 Over the past few years, Cornell Johnson has launched a variety of sweeping initiatives, including an overhaul of its management curriculum and the establishment of a new campus in New York City.
A recent merger between the business school and schools of Applied Economics and Hotel Administration has enabled Johnson to pool resources, increasing student choice and creating fresh channels for collaboration. Its 2018 #10 ranking by Bloomberg Businessweek indicates that these upgrades are paying off for students.
As Johnson's former Assistant Dean of MBA Admissions, I'm thrilled to witness the school's tremendous growth. And as a director at Fortuna Admissions, it's dually gratifying to see that Johnson's continually nurturing of a close-knit community keeps a premium on profound collaboration, small class sizes and invested professors. Incoming MBA candidates get the best of both worlds – the college-town vibe of Cornell's Ithaca campus nested in the academic universe of the largest Ivy League school – coupled with the opportunity to spend a semester in New York City.
If Johnson is at the top of your list, bear this in mind: Cornell isn't just building a class, it's building a community. Discussion, interaction and teamwork are core tenets of the program experience, so if any of these aspects give you pause, think twice about applying. Know what you bring to the table and be prepared to discuss how you can add value to Cornell's community.
FIVE TIPS FOR POSITIONING A SUCCESSFUL APPLICATION TO CORNELL JOHNSON:
1. Anticipate your short-term and long-term goals.
While quality in and quality out is important to all business schools, Johnson's Admissions and Career Services offices want to understand where you want to go and how you plan to get there. Everyone understands that ambitions can evolve, but ensure you can articulate a rational plan between what you are doing now through where you ideally want to be once you earn your MBA. Be prepared to talk about this transition in the interview process and have a plan B if plan A does not work out.
2. Understand the Johnson School, its people and the school's culture.
Cloistered in the pastoral Finger Lakes region of New York State, Ithaca is a unique place where you'll spend many months, so be certain the setting, culture and community resonate with you. If at all feasible, experience the school firsthand by visiting the campus, sitting in on a class and speaking with Johnson Ambassadors and faculty. When you do, be sure to swing by the Atrium to chat with students and politely pose tough questions – what they like, what feels challenging, why they picked Cornell and what would they change if they could. By the end of these interactions, you'll get a gut feeling about whether or not Johnson is a fit for you. Trust that feeling and act accordingly.
3. Authenticity is essential.
Do not tell an admissions committee what you assume they want to hear – present the application in your own voice, not someone else's. Show them aspects your life, career, passions and why you are interested in the program. Johnson is looking for candidates who are honest, straightforward and professional. Heed advice from others, but don't let them edit your work to the point of diluting your unique perspective
4. Showcase your creativity on the "back of the resume" essay.
This is an channel to be you without any filters. With the leeway available to determine the sharing format – you can submit your song, video, digital portfolio, etc. – how you choose to present is as important as what you choose to convey. Be unique –  tell a story, draw or take a picture, craft a video, and don't shy away from standing out with something hilarious, scary, candid, vulnerable and extraordinary. For example, one candidate's video made the difference by displaying a dazzling differentiator. While his application was solid and showcased a somewhat typical background, his training as a classical pianist was disclosed in a video performance surprising everyone on the team. Not only was he accepted, I still recall the video over than a decade later. Another indelible essay came from a soldier stationed in a war zone, who provided the chapter headings for a book of his life. It was penned to his two daughters as if he was not returning from war. It was imaginative, vulnerable and moving, leaving the admissions committee readers in tears and eager to meet him in person. Johnson is giving you the opportunity to make this component of the application anything you want it to be, so don't be afraid to do just that. For more tips on the essay, view my article, Writing Cornell Johnson's "Back Of The Resume" Essay.
5. Take breaks to revise your application before hitting submit.
Finish the application, set it aside and don't think about it for a few days. Let it age – take a break from the hard work you've done and clear your mind. Once you feel refreshed, go back and revise it more critically. Make any necessary amendments and let the application rest again. You will know when it's the best version you can provide to display who you are, who you want to be and how Cornell will influence the rest of your professional and personal life. Ask a trusted friend or a coach friends to give it a final review before submitting. Sit back, relax and wait for the interview email to arrive!
Randall Sawyeris a director for MBA consulting firm Fortuna Admissionsand the former Assistant Dean of Admissions, Financial Aid and Inclusion at Cornell University's Johnson School.