What New Dean Erika James Means for the Wharton MBA
June 30, 2020 | by Curtis Johnson

On July 1, Erika James succeeds Geoff Garrett as Dean of The Wharton School, my alma mater.
The late February announcement – sandwiched at the end of Black History Month and just before Women's History Month – was well timed, as James represents both the first woman and first Black person to serve as dean in Wharton's 139-year history.
The news stirred in me an excitement for what this could mean for the Wharton community – from the pipeline of talent it stands to attract to its capacity to address society's most pressing challenges, in Philadelphia and beyond. On the eve of her succession, this promise feels even more significant.
Our nation has been reeling in the time since James' appointment. For months, we've been largely confined to our homes, sequestered inside by the coronavirus pandemic. Amidst that relative stillness, America has been forced to address realities Black people live daily, from health care to law enforcement and beyond. While COVID-19 has been a disruption for all, it's been far more threatening for Black communities, with mortality rates more than twice that of other populations. The murders of George Floyd, Breonna Taylor, Elijah McClain and others at the hands, feet and knees of law enforcement have illuminated the disproportionate harm to Black bodies within the current system, and the scope of the inequities and complexities we are facing.
With respect to Wharton and Dean James, the importance of timing can't be overstated. In appointing a leader whose scholarly credentials are infused with personal and lived experience, and who has demonstrated a commitment to uplifting those representing marginalized communities, Wharton is uniquely prepared to lead in this moment. And, while I celebrate James' accomplishments as a Black woman, her identity should not overshadow her impressive leadership qualifications.
Wharton is the world's oldest collegiate business school, part of the venerated trinity known as HSW (Harvard/Stanford/Wharton) and consistently ranked among the top three programs in global MBA rankings. It has become relatively more diverse, both in terms of global diversity and among the 70 percent of its incoming class who hail from the US. In the six years since I've left Wharton, the school has admitted and enrolled more Black and Hispanic students – a source of pride (and perhaps a tinge of envy) for me as an alum. This important trend must continue – the degree to which Wharton's culture elevates diverse voices will be the degree to which it will continue to attract talent representing those dimensions of diversity, and build its collective capacity to address business and societal challenges in a truly transformational way.
Representation is critical. It is a lack of access and influence within our institutions that has led to persistent systemic disparities, both locally and globally. The thoughtful, intentional engagement of diverse perspectives to offer that influence is critical to disrupting the forces operating within these systems. To create a meaningful shift, this representation must happen on every level – through the student body, administration, and faculty, and by developing a pipeline that ensures future engagement while also committing Wharton's resources, influence, and access to benefit the communities who stand most to gain.
As a Black alum of Wharton, I am eager to see what James' appointment will mean for issues and topics that disproportionately impact Black residents and community members. Wharton is wholeheartedly focused on global impact – and rightfully so, as it has continually demonstrated its ability to effect far-reaching change. However, there are urgent needs in nearby communities that deserve the attention and intention of Wharton and other business leaders. That James calls herself a "virtue capitalist" is compelling, as it underscores her understanding of the intersection of business and social change. The opportunity to create meaningful, measurable impact within areas of great disparity in America – justice reform, educational inequity, health and wellness access – all exist within Wharton's surrounding communities, from Philly to New Orleans, Louisville to Flint, Michigan, and beyond.
The current context has deepened the urgency for this type of leadership. A year ago, we may have said, 'it'd be nice' if folks who went to Wharton felt a responsibility to engage in the broader community and address local challenges. Today, it feels imperative. My hope is that this becomes the expectation of students who come through Wharton – and Philadelphia, a city that is 44% Black – and benefit from its incredible assets, tools and networks.
It's as true for business schools as it is for the business world – visionary organizational leadership includes prescience, the ability to see ahead of the curve and act from the reality you want to create. Organizations and institutions that are just now recognizing the need to invest in and take leadership from non-white, non-male voices and talent are behind. Dean James' leadership has the potential to position Wharton and its community even more uniquely as leaders in business advancing broader global impact.
As an alum, it would do me no greater joy than to be able to say Wharton led by example and proved through action – not just talk – how committed business schools can and should be to uplifting and celebrating the contributions of Black people. The succession of Dean Erika James this week is one step amongst many that need to take place, but it's a step that suggests Wharton is leading from the future it wants to see.
---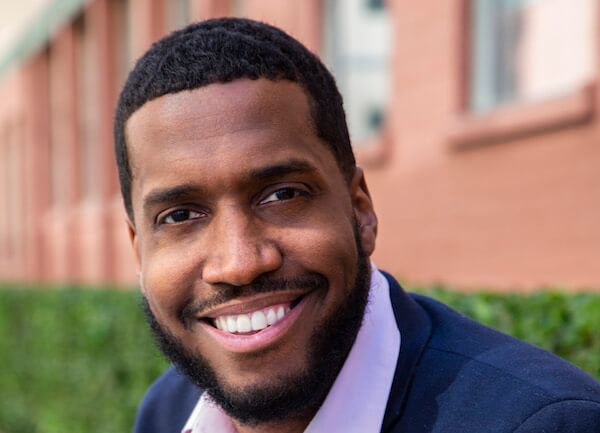 Fortuna Admissions coach Curtis Johnson is a journalist, brand builder and an alumnus of The Wharton School of the University of Pennsylvania, where he served as a William P. Lauder Wharton Leadership Fellow. Other recent features by Curtis include, Brand-building & Storytelling for the MBA – You're How-To Guide, and the video session, Personal MBA Experience: Insider Advice on Wharton School of Business.
---
For more insights & advice on applying to Wharton, view our related features:
For more advice and a personal, candid assessment of your chances, you can sign up now for a free consultation.