Blue Ocean Shift – How to Seize New Growth and Inspire Confidence
October 13, 2017 | by Matt Symonds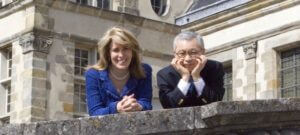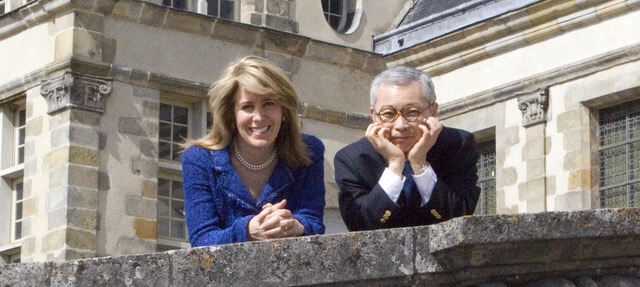 Why INSEAD professors and bestselling authors say the best way to beat the competition is to stop trying to beat the competition.
Image: Renée Mauborgne and W. Chan Kim, authors of Blue Ocean Strategy
In creating new market spaces, why do some companies succeed while others fail? It's a question that's studied in business school classrooms around the globe. Answer that question successfully, and you may be paying off your MBA tuition fees quicker than you think. Fail to answer it and you might spend your career fighting over a shrinking profit pool in head-to-head competition.
So how do you make the competition irrelevant and create uncontested market space? INSEAD professors W. Chan Kim and Renée Mauborgne researched more than 150 successful new market creations, as well as less successful competitors, across more than 30 industries. They discovered that most companies focus on beating the competition within existing markets. They described this as a red ocean, often over-crowded and with limited growth opportunities and shrinking profit margins.
Kim and Mauborgne observed that creating new market spaces yields a significantly higher profit impact. These markets spaces can be pioneered by all kinds of companies, in all sorts of industries. These are blue oceans. The duo found systematic patterns that divided market-competing strategies from successful market-creating strategic moves. For Chan Kim and Mauborgne, stop trying to beat the competition is the best way to beat the competition.
In 2005 Kim and Mauborgne published Blue Ocean Strategy, one of the most iconic strategy books every written. It sold more than 3.6 million copies and was published in 44 languages, becoming a byword for any entity looking to create new market spaces ripe for growth.
Taking the principles of the original work, Kim and Mauborgne just published a follow-up, Blue Ocean Shift. In the two weeks since its publication, the book has gone straight to the New York Times, Wall Street Journal and USA Today bestseller lists. Blue Ocean Shift provides a step-by-step guide to identifying untapped growth opportunities, whether you're a Fortune 500 company, small business or startup venture. I caught up with Kim and Mauborgne to learn more about these newly charted waters.
Symonds: What does the business community, or business school students, have to learn from Blue Ocean Shift?
Kim: The conventional thinking has been that innovation rests on entrepreneurs with certain traits like animal instinct and persistency and happens through their trial and error. Like innovation, market creation has also been seen as the result of entrepreneurial processes. Hence, in business schools, subjects like innovation and market creation have been taught mainly in entrepreneurship related courses, often as electives. Blue Ocean Shift, however, shows that market creation not only is an increasingly central strategic task for any organization to achieve its future growth but also can be achieved through a reliable and systematic process that can be reproduced. Blue Ocean Shift sees that market creation doesn't have to be a random, entrepreneurs' high-risk endeavor conducted through trial and error and that it needs to be pursued as a systematic strategy. It shows why market creation needs to be brought to the core of strategy curriculum in business schools and how to do so.
Moreover, through the years we have seen a lot of confusion in the business community around what market-creating strategy really is and how it works. People have difficulty understanding how various perspectives on market creation fit together. Some equate market creation with creative destruction or disruption. They think you need to destroy or disrupt an existing market in order to create a new one. Others regard market creation as a matter of innovation, and often see technology as the key to unlocking new markets. Still others view market creation as synonymous with entrepreneurship and believe it to be the domain of entrepreneurs. All these views are party right. But they are also partly wrong, because each offers an incomplete picture of how markets are created. Without having the complete picture, efforts to create new markets will miss many opportunities or can even be misdirected.
Blue Ocean Shift presents a holistic model of market-creating strategy that shows not only the available strategic options and how they produce blue ocean shifts, but also their corresponding growth consequences. Using this model, business students will understand how these existing partial views fit together in the big picture to have a complete understanding of the dynamics of market creation. It will be effective for MBA students to first understand this big picture in the core of their strategy curriculum before they further delve into specific topic areas related to market creation.
Symonds: Who is Blue Ocean Shift for and what's the gist of it? How does it build upon your bestseller, Blue Ocean Strategy?
Kim: If you want to move from downward pricing pressure to upward pricing possibility, from chasing customers to having customers seek you out, and from competing fiercely and slow growth to inspiring confidence and seizing new growth,Blue Ocean Shift is right for you.
Whether you are a cash-strapped startup, nonprofit or a large, established company with bureaucratic obstacles, Blue Ocean Shift will show you how to build your people's confidence and move from existing markets crowded with competition — or red oceans full of sharks — to blue oceans of new market space and explosive growth by applying a systematic five-step approach.
Blue Ocean Strategy articulated a view of the market universe as composed of red oceans and blue oceans and laid out the theory, conceptual differences and underlying patterns that separate market competition from market creation that makes competition irrelevant. As leaders and managers around the world adopted our theory and began to radically rethink their business strategies, many found that they were stuck in a red ocean. They were unsure of how to start the process of moving to blue waters, which would often require getting the members of their team to buy into a concept that directly conflicted with the long-established rules of their industries. Entrepreneurs were looking for concrete steps and a systematic process they could follow to create and capture blue oceans at minimal risk.
What people were keenly interested to understand were the dynamics of actual transformation. What does it take to change, to move an organization — be it corporate, an upstart, government, a non-profit, even an individual from the red ocean to the blue. Achieving that requires a shift. Not just in strategy. But also in mindset and culture.
Blue Ocean Shift meets this new challenge head-on by analyzing and comparing the successes and failures of blue ocean projects across the globe that have sprung out of the movement Blue Ocean Strategy started. With a decade of new research, we have developed a concise understanding of the process of new market creation and growth that unlocks people's creativity as much as their confidence to act and enables them to succeed as they make their blue ocean shift.
Blue Ocean Shift is brimming with battle-tested lessons that empower leaders, managers, entrepreneurs, and anyone committed to building a vibrant future, to succeed in their blue ocean journey. You'll learn what works, what doesn't, and how to avoid the potential pitfalls along the way. Blue Ocean Strategy is the What, Blue Ocean Shift is the How.
Symonds: Why do you think a current favorite buzzword in business, disruption, isn't the best strategy for future success?
Mauborgne: The current popular mantra of disrupt this, disrupt that, don't disrupt and die — is myopic. Is disruption the only way? And is it the smartest way for entrepreneurs and established organizations to seize new growth and create new markets? Blue Ocean Shift says No.
Our research shows that a focus on disruption is limiting and leaves half the opportunities to create new growth and new markets off the table. That other half isn't about disruption at all. It's all about what we call nondisruptive creation. While disruption sets out to better solve the existing problem an industry focuses on — like how MP3 players can better store and carry our music libraries than CD players — nondisruptive creation generates new markets by solving new problems or creating new opportunities, Think: What industry did the billion dollar ringtone industry disrupt? None. How about Viagra? Again none. Or what about Sesame Street? None again. Or microfinance? Again no. In fact, the second fastest growing profession in America, second only to technology, is based on nondisruptive creation. It's lifestyle coaching.
Business leaders need to understand that non-disruptive creation is as fundamental a driver of new growth as disruptive creation and it will become more important for the future success. The power of non-disruptive creation is that it doesn't heroically pit startups against established players with many times the resources. And it doesn't lead to creative destruction and all the politics that involves in established organizations. And as Blue Ocean Shift reveals, the opportunities to unlock non-disruptive creation are huge.
Symonds: What are key take aways from Blue Ocean Shift, whether for a C-level executive or an MBA student?
Mauborgne: Whether you are an MBA student or a C-level executive, Blue Ocean Shift imparts five key lessons. First, it shows you why focusing on competing misses huge growth opportunities and how to expand your thinking on strategy beyond competing. It shows you how to produce more creative strategies that can unlock new value-cost frontiers and with it profitable new growth horizons, even in declining industries.
Second, it shows why thinking creative destruction and disruption as sources of innovation is limiting and how you can grow through non-disruptive creation. It is increasingly accepted wisdom that creating a new market would destroy or disrupt an existing one. Yet, Blue Ocean Shift reveals that such thinking leaves half the opportunities to create new growth and new markets off the table. Identifying and solving a brand-new problem or seizing a brand-new opportunity gives rise to non-disruptive creation that produces growth without necessarily disrupting or displacing businesses or industries.
People's confidence is essential to create and execute a growth strategy – Blue Ocean Shift
Third, Blue Ocean Shift illustrates how anyone in any organization can move from red to blue oceans with blue ocean shift's systematic five-step process—not just entrepreneurs. Market creation has often been seen as the result of a trial-and-error process and the domain of entrepreneurs. Blue Ocean Shift shows how market creation can be achieved through a reliable and systematic process by anyone, whether they see themselves as particularly creative or not, or any organization.
Fourth, Blue Ocean Shift shows why people's confidence is essential to create and execute your growth strategy and how to build it. Without the confidence to act, few will venture down a new path, no matter how clear the roadmap. By putting people's confidence on an equal plane with their creative competence, Blue Ocean Shift shows how to move your team and your organization from red to blue oceans in a way that people own and drive the process.
Finally, Blue Ocean Shift will show you why you should not build your growth strategy based on existing environmental and industry conditions and how you can shape them in your favor for growth. Most organizations build their strategy based on industry conditions. Here industry conditions drive their strategy of what to do. What Blue Ocean Shift recognizes, and what most of us all too often forget, is that while industry conditions exist, individual firms created them. And as individual firms created them, individual firms can shape them too. Blue Ocean Shift shows you how you can shape industry conditions in your favor for growth and profit by following a systematic process.
Matt Symonds is a Director at Fortuna Admissions, Forbes columnist and best-selling author of Getting the MBA Admissions Edge, sponsored by McKinsey, Goldman Sachs, BCG and Bain.
A version of this article was originally published in Forbes on Sept. 26, 2017.