Insider Tips for The INSEAD Interview
December 27, 2022 | by Melissa Jones

INSEAD is among the top schools that enlist alumni to conduct MBA admissions interviews.
In doing so, the Fontainebleau, France-based program strives to pair you with one alumnus of a similar profile to yours and, for diversity's sake, another with a very different background. It's a signal of how deeply the school values the perspective its grads can bring — both to the interview process itself and to you as a candidate.
---
Participating in an interview prep session with Fortuna significantly increases your chance of admission: 89% of clients invited to interview at a top European school in Round 1 were admitted (far above the estimated 40-50% that schools say they admit). You can sign up directly online for MBA Interview Prep or explore MBA Packages. 
---
By design, INSEAD's alumni-led format fosters a conversational experience. Unlike an interview with a member of admissions, it is an invaluable opportunity to gauge the school's fit for you from someone who has been in your shoes. In  a typical year, you can expect to be matched up with two interviewers in your current city of residence (interviews are not held on campus). Depending on your location, you may be invited to interview in person or online.
Given that INSEAD draws upon a pool of thousands of alumni interviewers, there's a lot of variability in terms of format. And this is where it gets dynamic, because INSEAD gives its interviewers some latitude. The tone, style, context, and even length will often depend on your interviewer's personality and profession. Average length, for example, is about an hour. But some interviews can be as short as 30 minutes, while others range up to two hours long. One of my Fortuna Admissions clients had an interview that topped four hours (that was pre-pandemic and in person, which can lend itself to longer chat time). This is unlikely – especially if your interview is conducted virtually – but it's not out of the realm of possibility.
Given the high degree of variability, what can you expect and how should you prepare for the INSEAD MBA interview? Below are my top tips for preparing for a successful INSEAD interview, informed by my experience as a Fortuna expert coach and former assistant director of the INSEAD MBA program.
In addition to the top tips below, you can view my short video strategy session with Fortuna co-founder and former head of INSEAD Admissions, Caroline Diarte Edwards:
8 Tips for a Successful MBA Interview with INSEAD
1. Have your MBA elevator pitch at the ready.
It's common for alumni interviewers to open with, "Walk me through your resume," or "Tell me about yourself." Your approximately one-minute MBA elevator pitch should be a compelling and concise conversation opener that speaks to who you are, what you're passionate about, and what's driving you to pursue your business school degree. Your goal is to both create a positive first impression and open the door to further conversation by generating interest.
2. Research your interviewers.
Given this format's variability, learn about your interviewers prior to the interview and hedge your bets with due diligence. At the minimum, do a Google search and check out their profile on LinkedIn. Taking the time to sleuth out what you might have in common can make for a useful ice-breaker.
3. Connect the dots for them.
Be prepared to answer 1) Why an MBA? and 2) Why INSEAD? These two questions are always asked. Alumni are the school's messengers and champions; you'll want to show the love by conveying a thoughtful and sincere understanding of its unique culture and values. Among other qualities, your interviewer is looking for your leadership potential, fit with the school and ability to connect the dots within your professional experience to why the INSEAD MBA is the ideal next step in advancing your highest aspirations.
4. Showcase your international experience.
International experience isn't only an advantage, but a distinct criterion your interviewers will be assessing. You'll need to do more than enumerate your trips or adventures abroad. INSEAD wants evidence you've learned from these experiences, that you've gained interesting insights, cultural sensitivity, and curiosity for cultures beyond your own. Know that many short trips abroad count for less than extended stays, such as working or studying in another country, when you would've had to adapt to different environments. If you haven't had the opportunity yet to work or study abroad for an extended period, you could also discuss the experiences you have had working with international teams, and most importantly, what insights you have gained about cross-cultural collaboration.
As Fortuna's Caroline Diarte Edwards underscores in her related article, How to Get Into INSEAD, "Typically, those who gain admission without much experience beyond their own borders are from emerging markets (they may not have had financial means to travel), but are still able to demonstrate that they have the ability to collaborate in an incredibly diverse environment (qualities such as openness, flexibility, curiosity about other cultures, interpersonal skills, maturity – all these elements help)."
5. Make your points focused and persuasive.
Your interviewer may or may not be taking notes, so practice your key selling points to ensure that what you convey is memorable and compelling (i.e. easy for them to remember when they're writing their report to the admissions team).
6. Prepare to address any concerns.
If there are any red flags in your profile, prepare to respond — such as a low GMAT score or gap in your job history. Remember that you're here because the school sees something in you, but there might be one issue that they want to clarify. Meet any confrontation with confidence and poise (it's okay to take a breath and collect your thoughts). Some interviewers want to see if you can think on your feet or how you react when you're directly challenged.
7. Ask great questions.
This is your valuable opportunity to ask those nitty-gritty questions best fielded by someone who has gone through the program. When it's your turn to ask questions, use the opportunity wisely; don't make the mistake of asking questions about info easily found online. Remember that most people like to talk about themselves, so asking your interviewer about their own INSEAD experience is always a good topic for discussion.
8. Adapt to the video medium.
While most of us have become seasoned at conducting Zoom calls, you want to ensure the best possible conditions if your INSEAD interview is taking place virtually. It should go without saying that your Internet connection should be flawless. Other technical considerations include excellent audio, lighting, and attention to your environment. As my Fortuna colleague Judith Silverman Hodara wrote in her recent post on Virtual MBA Interview Tips:
"Video is just as much about what you see as about what you hear. Make sure the space behind your camera is clear and uncluttered. Film yourself against a plain wall if possible, to keep the focus where it should be – on you. Any larger shot of your room in the background should be clean and organized."
A big benefit of interviewing from home is that you can create the conditions to feel more relaxed – no one will know that you're wearing pajama bottoms below your suit jacket, for example, of if that you've doused the room in calming essential oils. That said, pay attention to your posture and other non-verbal cues, such as maintaining eye contact, hand gestures and energy. As Judith cautions, avoid watching the thumbnail of yourself onscreen (you can turn it off) and keep your eyes on your interviewer.
Being informed and prepared is the best way to feel confident and get the most from your interview. When the moment arrives, remember to smile and try to enjoy yourself. What you stand to gain from the experience — and the potential relationship — may extend far beyond your admission to the incoming class.
Updated December, 2022
---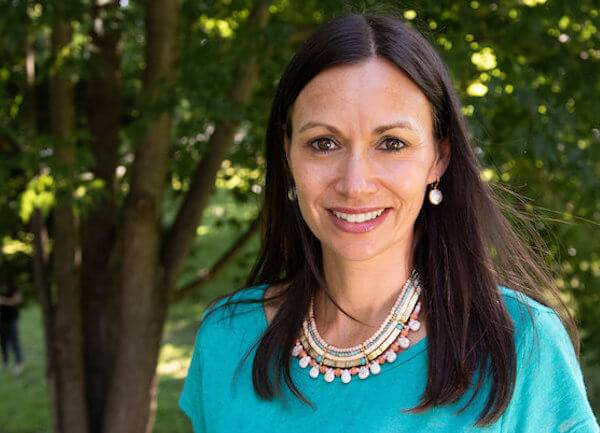 Melissa Jones is an expert coach at MBA admissions coaching firm Fortuna Admissions and former assistant director of the INSEAD MBA program. For a candid assessment of your chances of admission success at a top MBA program, sign up for a free consultation. If you already know what you want, you can sign up directly for MBA interview prep with a Fortuna expert coach or explore all services.