Wharton's New Entrepreneurship Space Emblematic of its Changing Culture, and a B-School Building Trend
April 18, 2019 | by Judith Silverman Hodara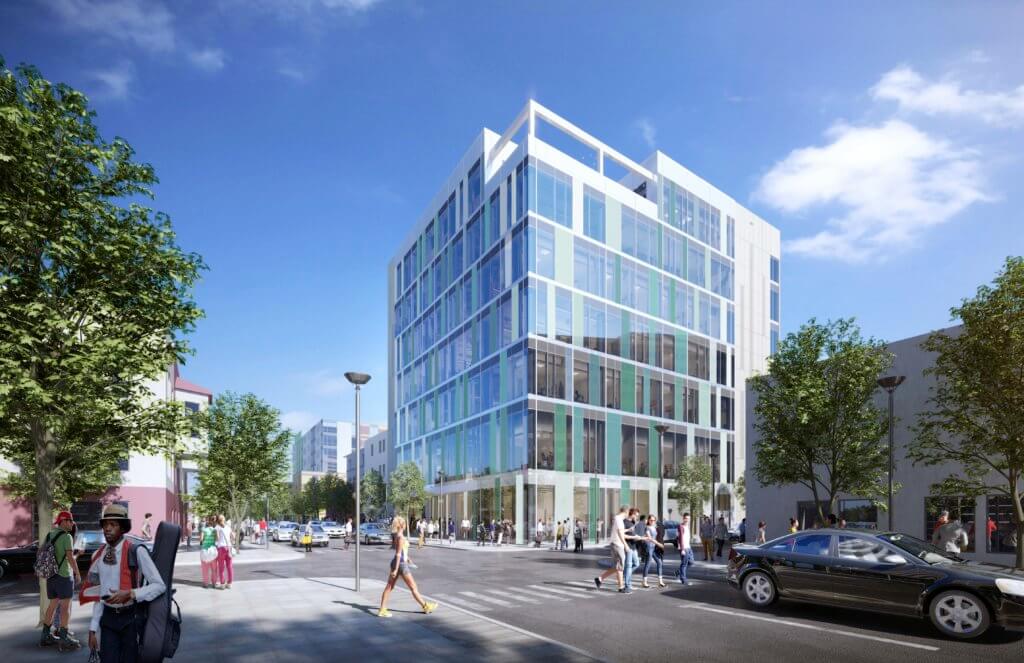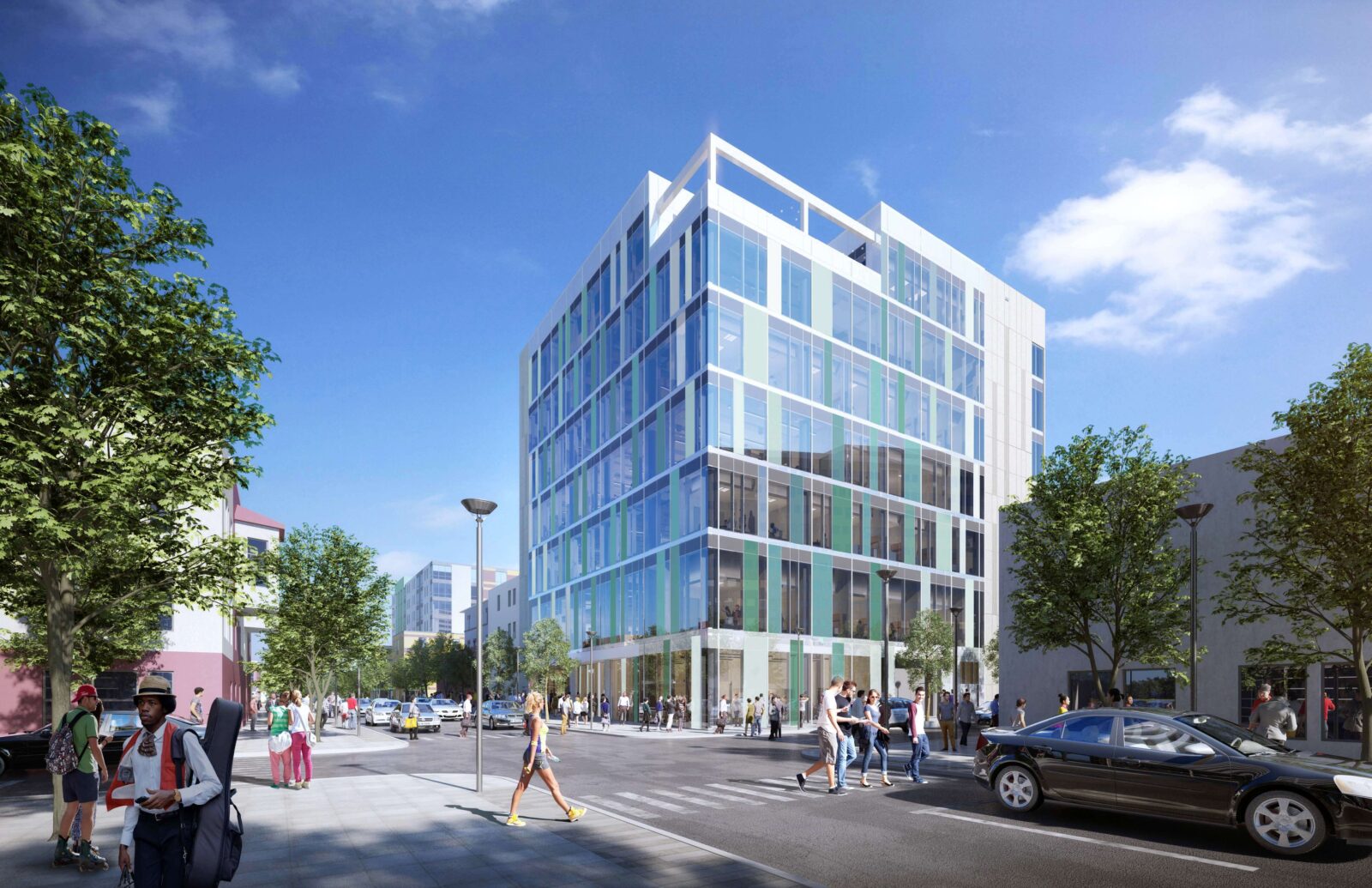 Today, Wharton previewed the architectural renderings of its ambitious new Tangen Hall, a seven-story entrepreneurship center dedicated to cross-campus student innovation.
The building's precast concrete façade with shades of green glass is metaphoric for the transparent view Penn is hoping to give the world into its culture of innovation, and its use of sustainable materials is angling for LEED Silver.
There's a lot for Wharton alumni and future students to celebrate. For starters, the cutting-edge facilities – slated for completion in 2020 – include incubator and maker spaces, a test kitchen for food-centric startups and a virtual reality environment. Beyond consolidating the university's entrepreneurship programs and activities, the 68,000-square foot space will house programs across a range of fields, as well as the Venture Lab, where students from across Penn's 12 schools collaborate on developing sustainable startups.
From my vantage as Wharton's former acting head of MBA Admissions, Tangen Hall offers further evidence of the exciting ways the business school continues to evolve beyond its roots in finance to also drive entrepreneurial innovation. For many years, Wharton was known as "the finance school" where students who were eager to go (or return) to Wall Street received their bona fides and entered investment banking, hedge funds and private equity shops. While there's certainly no shortage of students with those aspirations (nearly 37 percent of grads entered finance last year), Wharton has been positioning itself as a hub of entrepreneurship determined to dedicate both academic and support services to student-driven ventures.
Wharton's success in incubating industry disruptors prompted Inc. magazine to dub the school "the spiritual center of the DTC [direct to consumer] startup movement." Writes Inc., "Wharton is by no means the only place such companies originate, but it is the most fertile ground – a fact that's not lost on venture capitalists." Some 34 of last year's 814 grads started their own business (or were self-employed), hoping to follow in the footsteps of legendary Wharton-grad-led ventures including Warby Parker (most recently valued at $1.75 billion), MeUndies (9 million pairs and counting) and Burrow (boasting $3 million in sales in its first year).
"Tangen Hall is a real game changer for Penn," said Penn's President Amy Gutmann. "With it we are creating a signature space, which manifests the innovation at the heart of a Penn education and the exploration that touches on every aspect of the Penn experience."
This notion of creating a "signature space" that embodies an institution's defining attributes and aspirations is also emblematic of a top business school trend towards landmark campus buildings.
Last year, Kellogg Northwestern unveiled "The Global Hub," a striking, 415,000-square foot flagship building that achieved LEED Platinum certification. Its debut was heralded as "a new era" for the school, realized by its $330 million "Transforming Together" fundraising effort that typified Kellogg's self-described "legacy as a pioneer."
"When buildings and their interiors are thoughtfully constructed, they reflect a community's values and beliefs," wrote Kellogg's Sally Blount on why physical architecture still matters. "At a fundamental level, we believe that certain kinds of human knowledge creation will always happen best within co-located, mission-focused communities."
Blount's words echo the sentiments of Stanford University President John Hennessy when he commemorated the debut of Stanford GSB's Knight Management Center, an eight-building, 360,000-square-foot complex that also achieved LEED platinum for is sustainable design. "It's a virtual world, but it is face-to-face interactions – often that happen in serendipitous fashion –that are still critical to the way much of great innovation takes place," said Hennessy. "We can't predict the most interesting new ideas that will be born at the Graduate School of Business, but they will be created there." On its website, the GSB describes the $345 million facility as "a central element in the school's forward vision for management education in the 21st century."
Yale SOM's futuristic edition, a 240,000 square foot glass and steel marvel with undulating curves, that was featured in Architect magazineand lauded as symbolic of the school's integrated global identity.
Columbia's highly anticipated new complex – more than 15 years in the making – is projected to open for classes in 2022. When it does, it promises to be a game-changer for CBS, occupying some 492,000 square feet across two buildings situated between a 40,000-square-foot open area to be known as The Square.
The bar is high for any top b-school following suit, as any landmark campus creation has the potential to represent the highest expression of a school's identity, while passing muster with LEED certification and architectural distinction.
When Wharton unveils its building in 2020, it will make a bold statement about how it sees itself in today's MBA education. While it is certain that students with Wall Street aspirations will continue to apply in droves – as they have since Wharton's founding – campus wide, collaborative entrepreneurship is reshaping the firmament of academic and professional opportunities.
Fortuna Admissions Co-Founder and Director Judith Silverman Hodara is Wharton's former Acting Director of MBA Admissions.