Kellogg MBA Essays: Strategy & Tips
July 14, 2023 | by Julia Brady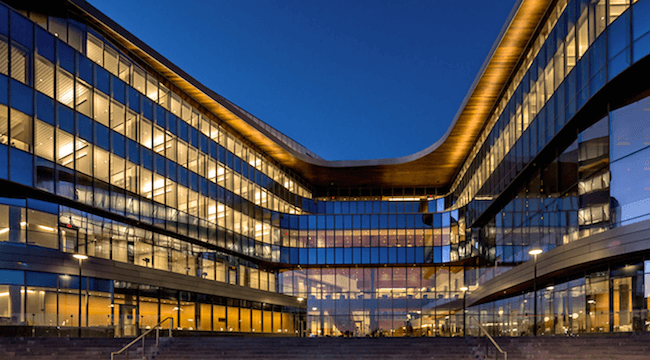 Kellogg Northwestern updated the two required essays in its 2023-2024 application in significant ways, but as in the past, the essays explore applicant's approach to leadership and their value system. 
Kellogg also asks you to introduce yourself and "show us the person behind those carefully crafted words" in a video essay. In the video, you'll respond to three prompts to introduce yourself, your career goal and reasons for seeking a Northwestern MBA, and a challenge you faced and what you learned from it. It's good to keep this in mind while crafting your essays so you can plan what additional information you might share in the video. For advice on mastering the video, see our related blog on Kellogg MBA Video Essays.
The key to delivering a series of standout essays to Kellogg — from written to video statements — is to embrace your authentic story. Weaving a well-crafted narrative that conveys your passions and clarity of purpose in a way that elicits emotional impact is the secret sauce in creating a connection to an admission reader's heart.
First, you'll want to understand why Kellogg is asking each question and what the admissions committee is hoping to uncover. The clues, of course, are embedded within the questions themselves.
Tips for Essay 1
Essay 1 asks: Kellogg leaders are primed to tackle today's pressing concerns everywhere, from the boardroom to their neighborhoods. Tell us about a time in your life where you've needed a combination of skills to solve a problem or overcome a challenge. Which skills did you use? What did you accomplish? (450 words; hard cut-off at 480 words)
In this essay, Kellogg is looking to learn about your leadership journey thus far and gain a sense for how you will grow as a leader at Kellogg. Highlighting the role of leadership in addressing "pressing concerns…from the boardroom to their neighborhoods" reflects a core Kellogg value — that leadership is not something that one turns on or off. Consistently acting as an authentic leader to address any situation is crucial.
The prompt also recognizes that leadership occurs in all kinds of different settings, which invites you to offer an example from a unique context — say, leading from below, or in a volunteer or community setting — if you do not have deep experience in a typical leadership role to draw on.
The heart of the question, "Tell us about a time in your life where you've needed a combination of skills to solve a problem or overcome a challenge?" is the opportunity for the applicant to share a compelling example of how they've led, guided or facilitated a situation to accomplish a goal or overcome a challenge. Kellogg is focused here on how you put skills into action. And while the subject is "you," Kellogg leaders recognize the value of bringing others along, and how differences and diverse perspectives create better solutions. 
This is your opportunity to tell a story.  Think through: why must you tell this story?  How is the world, your company or community better off from the skills you used, the actions you took and the contributions you have made? What leadership experiences can you share that reveal you've succeeded in elevating people, places and/or circumstances because of your intentional participation? What story will illuminate the significance of this shift, showcasing the situation before you came in, while you were there and after you've left? 
Keep in mind this values statement from the Kellogg website: 
WE VALUE INDIVIDUALS WHO:
Approach business problems with a mix of hard and soft skills.

Seek to adapt to the evolving business world with open curiosity and innovation.

Believe in strong, empathetic collaboration as a way to strengthen work, perspectives and outcomes.

Embrace the power of diversity in your teams and networks.
Kellogg wants to get to know the authentic you and enroll those who lead with empathy. They don't wish to read the 'heroes' journey' where your strength and resilience led to success without thinking about the impact on others. This is an opportunity to reflect how you currently embody Kellogg values and will positively contribute to your classmates' experience.

Tips for Essay 2 
Essay 2 asks: At Kellogg, our values are based on research that concludes organizations comprised of leaders with varied backgrounds and perspectives outperform homogeneous ones. How do you believe your personal and professional experiences to date will help to enrich the Kellogg community? (450 words; hard cut-off at 480 words)
Here, Kellogg stresses how it values diversity. As the question makes clear, Kellogg's leadership classes teach that diversity in thought and experience contributes positively to a firm's performance. In framing the question this way, Kellogg seeks to learn about your lived experiences and values, to assess how you will fit into and contribute to a richly varied and diverse class and community. 
Implicitly, this question invites you to share your identity and background. If your origin story, the circumstances of your childhood, or the environment that you lived or worked in fundamentally shaped your values and how you contribute to the diversity of a team, that can be good territory to mine if you wish. Your personal story can share how those forces and experiences informed the person you are today and your aspirations for the future.
To address the spirit of this essay, start by identifying the values that you lean into, particularly when faced with a challenging situation. Kellogg is looking to understand what it is that inspires, drives and motivates you. Candidates who do the thoughtful introspection required to write with authenticity and substance will deliver a valuable view into who they are as a person, not just the workings of your intellect or the details of your resume.
Your values inherently extend beyond yourself, into your relationships with people and the places where you imagine making a positive impact. In considering examples to share as you reflect on your "personal and professional experiences", what were the challenges or opportunities you encountered and how did you respond in ways that reflect your diversity of thought, background and/or how you bring that out in others in responding to challenges?
This question is another opportunity to dig deep and get personal. The essay begins, "How do you believe your personal and professional experiences to date…" You can use this to provide an overview of ways you've built and led diverse teams or contributed to the diversity of thought or background to an organization. Since the prompt asks for 'experiences' yet the essay is limited to 450 words, it will be important to concisely paint a high-level picture of the values that shape you as a leader and what you have gained from those experiences that will allow you to enrich the Kellogg community — then go deeper on one of the experiences.
Finally, address how will your values and perspectives influence the type of experience you create for your future Kellogg classmates? What might you contribute as well as gain from the Kellogg experience?: 
Formatting Guidelines:
You can either upload your essays as a file or copy and paste your essay text into the form: Be sure to include the essay prompt in bold at the top of your essay. If you're uploading a document, please use 12-point Times New Roman font, 1.5 line spacing and 1-inch margins.
View our Kellogg & Chicago Booth Admissions Masterclass, an hour-long strategy session with essential advice and insight from Fortuna's former Kellogg & Booth gatekeepers. View other MBA Essay Masterclasses in our series on Fortuna's YouTube channel. 
Decoding the Kellogg MBA Video Essays
Lastly, Kellogg asks each applicant to complete a video essay component after submitting the application, and its new third question is a doozy. View our related blog for advice on how to tackle the Kellogg MBA Video Essays, including tips for performing well on camera.
Let's Get You In.
Fortuna Admissions is a dream team of former MBA Admissions Directors and Officers from 18 of the top 20 business schools, including Kellogg. With our unparalleled collective expertise, we are able to coach you to develop a clear vision of your goals for business school and beyond. We work closely with you throughout the application process and provide expert guidance at every stage to maximize your chances of admission to a top school.
Our free consultations are consistently rated as the best in the industry. To learn more about Fortuna and assess your chances of admission to Wharton and other top programs, request a free consultation.
Want More Advice?
Check out our team's latest articles, videos, and analysis related to how to get into Kellogg:
Updated July 14, 2023
---
Julia Brady is an Expert Coach at MBA admissions coaching firm Fortuna Admissions and formerly served as Managing Director at Kellogg & Former Senior Associate Dean, UChicago. For a candid assessment of your chances of admission success at a top MBA program, sign up for a free consultation.