We offer a wealth of tips and strategies across a range of topics—from application advice on Harvard or INSEAD to acing the GMAT, writing essays, navigating MBA interviews and more.
Sep. 24th, 2012
Interviewing is a lot like dancing. You should probably dress up for it, learn the steps beforehand, and know who is "leading" during the dance itself. Here's our tip: YOU are NOT the leader.
Sep. 17th, 2012
A great letter of recommendation can make a big difference in your MBA application. So what are the guidelines for who to ask, and how to help them produce a letter that resonates with the admissions committee?
Sep. 10th, 2012
It's hard to sit down one night and think "OK, now I am ready to write my MBA application essays." We generally suggest looking at an aggregate list of the questions asked by the schools you are considering, and pulling out the main themes that the essays are looking for. You can then create a […]
Sep. 3rd, 2012
So you think your undergraduate GPA is set in stone? Think again! For students who majored in the humanities and may not have had a strong quantitative exposure, or for students who have lower grades in quant classes on their college transcripts, our advice is simple – TAKE A CLASS! Courses are available at local […]
Aug. 27th, 2012
There is much discussion about which round of applications is most advantageous for applicants, An ideal rule of thumb is to apply when you are ready. It is important though to keep in mind the obvious math – Round 1 has all of the spots available (beyond a handful of deferrals), Round 2 has fewer […]
Aug. 20th, 2012
While it is tempting to strictly go by the MBA rankings of top business schools in deciding where you would like to apply, it is important to recognize that they each use different criteria. – For the FT MBA ranking, MBA salaries three years after graduation account for 40% of the overall score; – BusinessWeek […]
Aug. 13th, 2012
The MBA application is one of the most contemplated, over-analyzed, and anxiety-inducing things in the life of young business professionals around the world. The intensity of preparation and calculation varies from region to region, but the message remains the same: Do your homework. There is no substitute for the careful research and preparation that comes with […]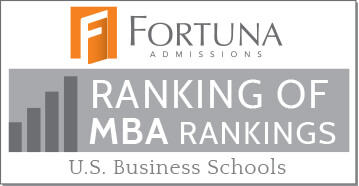 Oct. 21st, 2011
We have compiled the results of the big five MBA rankings of the last 12 months to produce the Fortuna Ranking of MBA Rankings 2011 – US Business Schools. How did the top business schools in the US perform when you combined the results from 12 months of media rankings? Methodology Only the US business […]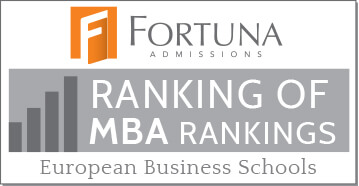 Oct. 21st, 2011
Fortuna Admissions has compiled the results of the major media MBA rankings of the last 12 months to produce the Fortuna Ranking of MBA Rankings 2011. How did the top business schools in Europe perform when you combined the results from 12 months of media rankings? Methodology Very few of the European business schools […]